Tulo, CarGo in running for Gold Glove Awards
Tulo, CarGo in running for Gold Glove Awards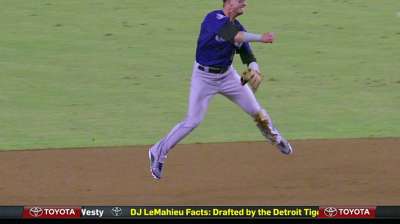 DENVER -- Rockies shortstop Troy Tulowitzki and left fielder Carlos Gonzalez have a shot to win their third Rawlings Gold Glove Awards, and Nolan Arenado could become the first rookie third baseman to win one in the National League.
Rawlings announced the three finalists at each position in both leagues on Friday via Twitter. If any of the Rockies win in the NL, they will be in rare company in club history. The winners will be revealed Tuesday at 6 p.m. MT on ESPN2.
Tulowitzki won Gold Glove Awards in 2010 and '11; Gonzalez in 2010 and '12. If either win, they will match newly retired Todd Helton (2001-02, 2004) for the second-most awards in franchise history. Outfielder Larry Walker won five (1997-99, 2001-02) of his seven total Gold Glove Awards while with the Rockies.
Tulowitzki and Gonzalez missed significant time with injuries, but Tulowitzki's 121 appearances and Gonzalez's 110 were enough for them to earn consideration. Tulowitzki led NL in fielding percentage at .986 and ranked in the top two in range categories. Gonzalez led the league with 11 assists from left field despite his low number of games played.
Arenado, 22, didn't appear in a Major League game until April 28, but earned finalist status by leading the league in range factor per game and range factor per nine innings in his 130 defensive games.
Additionally, outfielder Eric Young Jr., who began the year with the Rockies before being traded to the Mets, was named as one of the finalists competing with Gonzalez in left field.
The winners will be determined via a slightly altered system.
Since its inception in 1957, the Gold Glove Award has relied solely on Major League managers and coaches votes to determine the best defensive players. Managers and coaches got an assist this year from the Society for American Baseball Research (SABR). For the first time, Rawlings collaborated with SABR to formally incorporate sabermetrics as a component of the Gold Glove Award.
A committee of experts in baseball analytics and defensive measurement devised the SABR Defensive Index (SDI), which draws on and aggregates two types of existing defensive metrics: those derived from batted ball, location-based data, and those collected by from play-by-play accounts.
The three metrics representing batted ball data include defensive runs saved (from Baseball Info Solutions), ultimate zone rating (developed by sabermetician Mitchel Lichtman), and runs effectively defended (created by SABR's Chris Dial).
The two metrics included in the SDI from play-by-play data are defensive regression analysis, created by committee member Michael Humphreys, and total zone rating.
The plan, according to Rawlings and SABR, is to have the SDI complement the judgment by the managers and coaches. The SABR Defensive Index will account for 30 total votes -- or approximately 25 percent -- of the Gold Glove Award selection process, and will be added to the votes from the managers and coaches.
Ballots were distributed to managers and coaches in September, and they received a revamped statistical resource guide as well.
Here are the finalists in each league:
NATIONAL LEAGUE
Pitcher
Patrick Corbin, D-backs
Zack Greinke, Dodgers
Adam Wainwright, Cardinals
Catcher
A.J. Ellis, Dodgers
Russell Martin, Pirates
Yadier Molina, Cardinals
First base
Paul Goldschmidt, D-backs
Adrian Gonzalez, Dodgers
Anthony Rizzo, Cubs
Second base
Darwin Barney, Cubs
Brandon Phillips, Reds
Mark Ellis, Dodgers
Third base
Arenado, Rockies
Juan Uribe, Dodgers
David Wright, Mets
Shortstop
Ian Desmond, Nationals
Andrelton Simmons, Braves
Tulowitzki, Rockies
Left field
Gonzalez, Rockies
Starling Marte, Pirates
Young, Jr., Mets
Center field
Carlos Gomez, Brewers
Andrew McCutchen, Pirates
Denard Span, Nationals
Right field
Jay Bruce, Reds
Jason Heyward, Braves
Gerardo Parra, D-backs
AMERICAN LEAGUE
Pitcher
Mark Buehrle, Blue Jays
R.A. Dickey, Blue Jays
Doug Fister, Tigers
Catcher
Joe Mauer, Twins
Salvador Perez, Royals
Matt Wieters, Orioles
First base
Chris Davis, Orioles
Eric Hosmer, Royals
James Loney, Rays
Second base
Robinson Cano, Yankees
Dustin Pedroia, Red Sox
Ben Zobrist, Rays
Third base
Adrian Beltre, Rangers
Evan Longoria, Rays
Manny Machado, Orioles
Shortstop
Alcides Escobar, Royals
Yunel Escobar, Rays
J.J. Hardy, Orioles
Left field
Yoenis Cespedes, A's
Andy Dirks, Tigers
Alex Gordon, Royals
Center field
Lorenzo Cain, Royals
Jacoby Ellsbury, Red Sox
Adam Jones, Orioles
Right field
Nick Markakis, Orioles
Shane Victorino, Red Sox
Josh Reddick, A's
Thomas Harding is a reporter for MLB.com. Follow him on Twitter @harding_at_mlb. Carrie Muskat contributed to this story. This story was not subject to the approval of Major League Baseball or its clubs.