Ice-cold Drew expected to stay in lineup
Ice-cold Drew expected to stay in lineup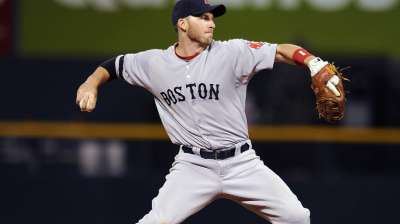 ST. LOUIS -- With each round of the postseason, the slump of shortstop Stephen Drew has only intensified, yet his starting spot in the lineup appears as secure as it did when October started.
That's because his defense has been stellar, perhaps better than at any other point in the season.
"It's been critical," said manager John Farrell. "While he has had his struggles, they're well documented, and we live it with him. But he has played such a strong defensive position at shortstop. Last night there's probably three or four plays that he makes that might otherwise build into a potential inning for the Cardinals.
"He's such a steadying force for us on defense up the middle and on the infield in general. In [the type of] games that we anticipate being played, defense is a premium. The first two games are prime examples."
Drew is 4-for-42 this postseason, with just one walk and one extra-base hit.
"Sooner or later I've got to snap out of it," said Drew. "It's baseball. My career will tell you that. It's definitely something that [stinks] right now with being in the postseason. I'm taking good swings. I'm missing that pitch that I need to hit."
Ian Browne and Jason Mastrodonato are reporters for MLB.com. This story was not subject to the approval of Major League Baseball or its clubs.