Boston's running game quiet thus far
Boston's running game quiet thus far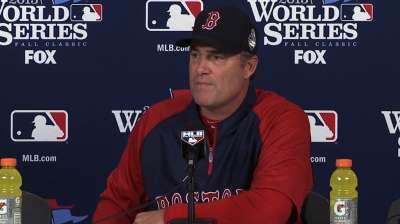 ST. LOUIS -- The Red Sox took pride in their ability to steal bases all season, but that aspect of their game has been nonexistent thus far in the World Series.
The problem for Boston is that St. Louis' Yadier Molina might be the best defensive catcher in the game.
Of course, if Boston is going to steal bases, Jacoby Ellsbury and Shane Victorino need to get on base at the top of the order. Ellsbury has been on base twice through the first two games, and Victorino is 0-for-8.
But don't expect the Red Sox to bunt more in lieu of trying to steal against Molina. As an organization, Boston remains staunchly against the concept of giving away outs.
"I don't think our outlook has changed," said manager John Farrell. "Their pitchers have done a very good job of unloading the baseball in a timely fashion to really control a running game, in addition to [having] Yadi behind the plate. If there comes a point in time later in the series where we've got to be a little more willing to take a risk that might present itself, [then we will]. But we value the out much the same."
Ian Browne and Jason Mastrodonato are reporters for MLB.com. This story was not subject to the approval of Major League Baseball or its clubs.