Buchholz remains on track for Game 4
Buchholz remains on track for Game 4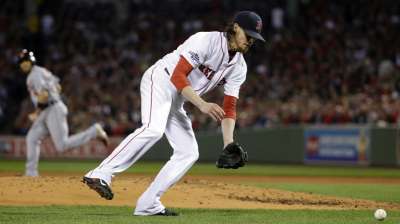 ST. LOUIS -- How effective can Clay Buchholz be, given the fatigue in his right shoulder he has been dealing with of late?
The answer will come on Sunday night (air time 8 ET, game time 8:15 ET on FOX), as the righty will take the ball in Game 4 against the Cardinals.
Buchholz went through his throwing program on Friday and seemed to get through it well enough to remain on schedule.
"He went through a throwing program today, went back to about 100 feet with some increased intensity along the way, and he's starting Sunday," said manager John Farrell.
Despite all the talk about Buchholz's health, righty Jake Peavy, who is starting Game 3 on Saturday (air time 7:30 ET, game time 8:07 ET), is confident that his teammate will find a way to come through.
"I'm really not that concerned, to be honest with you," said Peavy. "We're at the finish line now. I certainly hate that he's experiencing any kind of discomfort, and we all know he missed some significant time with a shoulder injury.
"But I think Clay is on that same bandwagon; we started this [news] conference talking about Carlos Beltran. I can't imagine what it would take somebody who's been hurt, been injured, [to not play]. I think you could just physically have to not be able to play the game of baseball to not go out there and compete in this environment, when the adrenaline and the atmosphere can help you through a lot of that, as well as maybe some drugs."
Ian Browne and Jason Mastrodonato are reporters for MLB.com. This story was not subject to the approval of Major League Baseball or its clubs.