Strength of Boston's bench will be on display
Strength of Boston's bench will be on display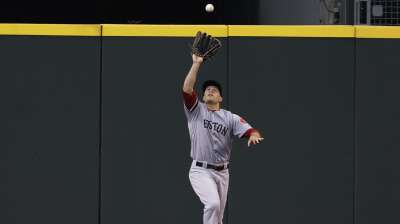 ST. LOUIS -- If there's a silver lining in the Red Sox having to play under National League rules for the next three games, it's that one of their biggest strengths can be accentuated.
Manager John Farrell had one of the most productive benches in the Major Leagues this season, and it played no small role in Boston winning 97 games.
Whether it was Mike Carp hitting a game-breaking pinch-hit grand slam at Tropicana Field in September or Jonny Gomes ripping four pinch-hit homers during the season, there were a lot of moments to remember from Boston's reserve squad.
Now that Farrell will be pinch-hitting for his pitchers and deploying double switches, he will be able to show off his bench strength.
With David Ortiz playing first, slugger Mike Napoli will be lurking in the late innings as about the most dangerous pinch-hitter you can have in a World Series game. Daniel Nava is expected to start Game 3 in left, so Farrell will also have Gomes at his disposal.
Will Middlebrooks has become a forgotten man since Xander Bogaerts took over at third for Game 5 of the American League Championship Series, but Middlebrooks, who hit 17 homers in 348 regular-season at-bats, can become a factor again as a pinch-hitter.
"Yeah, there's no question our bench is going to be more involved in these next three games," said Farrell. "It's one of the reasons why I think we've achieved the success we have throughout the course of the year. We haven't had to use it as much with the number of days off and strictly American League rules, but even if we have to defend for David late with Mike Napoli, we've got much more flexibility, obviously, with an added guy on the bench."
Ian Browne and Jason Mastrodonato are reporters for MLB.com. This story was not subject to the approval of Major League Baseball or its clubs.