Three Red Sox nominated for Gold Gloves
Three Red Sox nominated for Gold Gloves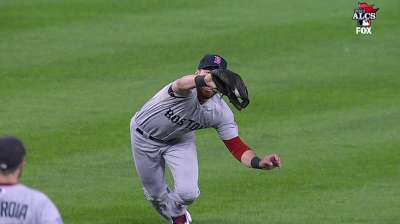 BOSTON -- With defensive statistics playing a role in the Rawlings Gold Glove Award for the first time, Mike Napoli, who led all Major League first basemen in most defensive metrics, won't get a chance to let the numbers play. But three other Red Sox players will.
Second baseman Dustin Pedroia, center fielder Jacoby Ellsbury and right fielder Shane Victorino were all named finalists for American League Gold Glove Awards on Friday, which were announced on Twitter. While 75 percent of the vote will be decided by the managers and coaches, 25 percent is made up on five different defensive statistics.
Pedroia, Ellsbury and Victorino should have the numbers on their side.
Napoli would've, too, had he been included as a finalist. Among first basemen, Napoli ranked first in the Majors in Ultimate Zone Rating (9.7) and first in the AL with 10 defensive runs saved. The Rays' James Loney (four defensive runs saved), the Royals' Eric Hosmer (three) and the Orioles' Chris Davis (-7) were the three nominated players at the position.
Pedroia, who won the award at second base in 2008 and '11, has alternated Gold Glove seasons with Yankees second baseman Robinson Cano in the past. Cano took the award in 2010 and '12. Placido Polanco won in 2009.
In 2013, Pedroia led Major League second basemen with 15 defensive runs saved; Cano had six. The Rays' Ben Zobrist, the third finalist, had seven.
Ellsbury is looking for his second career Gold Glove in center field after winning the award in 2011. The speedster was third among AL center fielders with 13 defensive runs saved and fifth in the AL with a 10 UZR. The Royals' Lorenzo Cain (17 runs saved, 12.8 UZR) and the Orioles' Adam Jones (-2 runs saved, -6.8 UZR) are the other two finalists.
Victorino, a former center fielder who played right field full-time in 2013 for the first time since '07, led AL right fielders with 24 runs saved and a 25 UZR. Victorino won Gold Gloves in 2008, '09 and '10 while playing center field for the Phillies. He's competing against Oakland's Josh Reddick, who won the award last year, and Baltimore's Nick Markakis, who won in '11.
The Red Sox were third in the AL East with three Gold Glove finalists. The Orioles had six, the Rays had four, the Blue Jays had two and the Yankees had one.
Ian Browne and Jason Mastrodonato are reporters for MLB.com. This story was not subject to the approval of Major League Baseball or its clubs.