Cards turn tables, rally late to knot World Series
Cards turn tables, rally late to knot World Series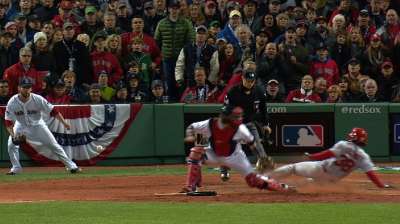 BOSTON -- After leaning upon rookie right-hander Michael Wacha to pitch them out of Pittsburgh, past L.A.'s Clayton Kershaw and into the World Series, the Cardinals' offense found a way to return the favor on Thursday night.
This time, they bailed him out.
On a night when Red Sox cleanup hitter David Ortiz marred an otherwise dominant effort from the 22-year-old Wacha with a sixth-inning blast, the Cardinals answered -- albeit with some help from the Red Sox's defense -- with three runs an inning later. That provided the Cards' bullpen with a two-run cushion, one it held with relative ease in order to leave Boston on a high.
With a 4-2 victory in front of 38,436 in Game 2 of the World Series, St. Louis heads home having split the pair of games at Fenway Park. It was a critical win for the Cardinals, who did not want to go back to Busch Stadium without having won at least once behind their top two pitchers.
"You turn the page and you come back the next day and you fight, you try your best and you go out there and expect to win," David Freese said. "Tonight was a big game for us. One-to-one feels good. Being down two games, I'm sure statistically that is a tough feat to come back from."
The numbers confirmed Freese's presumption. Of the last 16 teams to fall behind 2-0 in the Fall Classic, only one (the 1996 Yankees) had come back to claim a championship. It's a feat these Cardinals no longer will have to try to match. Instead, they can savor this: Of the 13 previous times the Cards were 1-1 in a World Series, 11 ended with a title.
"This was a big win today," said reliever and spectator Jason Motte. "It wasn't a must-win [game], but it was pretty close to it."
"Tonight's game is more reflective of how we've played, especially of late," added general manager John Mozeliak. "A key double play. Wacha was outstanding. All these young guys just give you a chance to win, which is outstanding. I just think the key thing for us was to move on, and we did. Now going back to St. Louis 1-1, you feel like you're in a much better spot."
The Cardinals left Fenway Park on Wednesday night wanting to forget all that had transpired. A sloppy showing and an uncharacteristic night from Adam Wainwright had foiled the club's attempt to set the Series tone. That left Wacha -- a college junior when the Cards made their World Series run two years ago -- to shoulder the task of righting the momentum.
Wacha would not deliver his third straight scoreless start, but he kept the game tight enough that the Cardinals could flip the script on the Red Sox during Boston's sloppy seventh. A day after St. Louis' defensive issues plunged the team into an inescapable hole, the Red Sox fumbled their chance at passing a 2-1 game lead to their closer.
"Last night, we put pressure on them and it went our way," Boston second baseman Dustin Pedroia said. "Tonight, they put pressure on us and it went their way."
A one-out walk by Freese put the potential tying run on base for Jon Jay, who moved him to second with a single. That was the last batter Red Sox starter John Lackey would face.
Manager Mike Matheny also made a switch, replacing Freese with the quicker Pete Kozma, a move that would be fortuitous minutes later. Craig Breslow came in to face Daniel Descalso, who battled through a seven-pitch at-bat to draw a walk after a gutsy, but successful, double steal.
With the bases full, Cardinals third-base coach Jose Oquendo took a gamble and sent Kozma home -- "That's a chance I have to take there," Oquendo later said -- on a Matt Carpenter flyout to left. The issue forced a wide throw from left fielder Jonny Gomes that catcher Jarrod Saltalamacchia could not corral. Kozma slid home to tie the game, and Jay took off for third as the ball scooted away.
In his attempt to nab Jay, Breslow, backing up Saltalamacchia, sailed his throw into the seats along the third-base line. Jay trotted home. Descalso moved from first to third, putting him in position to score a key insurance run when Carlos Beltran dropped a single into right. Beltran, playing with a right rib contusion, finished 2-for-4.
"It just kind of sailed on me," Breslow said of his errant throw. "I looked up and I saw that I definitely had a play there. That's not a throw I make too much, but it's one I need to make there. That could have been a big out for us."
Two errors -- one on Saltalamacchia, the other on Breslow -- were given on that play.
"We were able to capitalize on a miscue of theirs tonight after they were able to capitalize on a couple of ours last night," Descalso said. "Baseball is a funny game. We played poorly last night and we made the mistakes, and we come out tonight and we play a lot better, and they were the ones that made a mistake that gave us some runs."
The timely offense rewarded Wacha with a win on a night when the Red Sox extended him to a career-high pitch count of 114. Facing an offense that prides itself in grinding at-bats, Boston laid off Wacha's low pitches and made him work harder than he had all postseason.
By the end of the fifth, Wacha had a pitch count of 88 despite allowing only two hits.
"They definitely do battle," Wacha said. "They don't swing at bad pitches, really. You've got to throw effective pitches in the zone."
Only twice did Boston's pesky approach actually put Wacha in much trouble. He escaped his first predicament by getting Mike Napoli to ground into a double play with two on and no out in the fourth. That scoreless inning preserved a one-run lead provided earlier in the inning, when Matt Holliday tripled and scored on Yadier Molina's groundout.
Wacha could not get out of the sixth similarly unscathed. He was bitten by falling behind Pedroia, who drew a walk, and Ortiz, who homered on a 3-1 changeup left high. That snapped Wacha's scoreless-innings streak of 19 (one that tied him with Bob Gibson for the longest in franchise postseason history), and doubled the runs allowed by Wacha in his previous three October starts (21 innings).
"Overall, you can't ask for more from that kid," Matheny said. "He gave up a couple of walks, and just happened to give up the big hit."
Wacha's teammates rallied for his cause.
"We didn't panic," Freese said. "Obviously, it was a tough blow, but we just came back in and said, 'Keep fighting, keep fighting. There is still a lot of game left.' We were fortunate to have a good inning after that."
A pair of rookie relievers preserved the win for the rookie starter with three scoreless innings. Carlos Martinez took care of the first two frames. He sent the Red Sox down in order in the seventh and stranded two while facing the heart of the order in the eighth.
Trevor Rosenthal struck out the side in the ninth to seal his first World Series save. He has not been scored upon in seven appearances this postseason.
"We felt the brand of baseball we showed out there tonight was a lot more like we played all year," Rosenthal said. "It felt good to get the win like that."
Jenifer Langosch is a reporter for MLB.com. Read her blog, By Gosh, It's Langosch, and follow her on Twitter @LangoschMLB. This story was not subject to the approval of Major League Baseball or its clubs.