MLB contingent visits wounded veterans
MLB contingent visits wounded veterans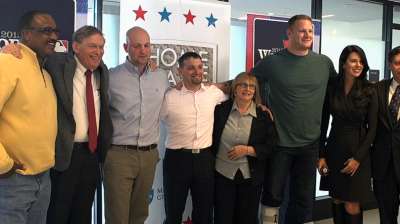 BOSTON -- After Game 1 of the 109th World Series was dedicated to military veterans and their families, Major League Baseball continued to drive home awareness Thursday afternoon with an event that drew Commissioner Bud Selig, Red Sox chairman Tom Werner, Hall of Famer Jim Rice, Red Sox legends and other dignitaries to the Spaulding Rehabilitation Hospital.
The delegation met there with veterans who have suffered post-traumatic stress disorder or traumatic brain injuries in the field of combat, and they also received a lengthy tour from doctors, who unveiled some of the latest technologies, including bionics, that are helping these men and women return from horrors to live meaningful lives.
"It was very, very emotional for me," Selig said. "It means a great deal for me. I tell the clubs all the time that baseball is a social institution with important responsibilities. We are lucky we are able to do things like this. A lot of people sometimes say, 'Well, I have to do this, I have to do that.' This is a privilege, and if we can help, it's great. The work they are doing here is just stunning, hard to believe all that I saw. If we can play a role in helping people's lives get better, it makes you feel good."
The Commissioner joined representatives of the Red Sox Foundation and Massachusetts General Hospital, who collaborated for the innovative Home Base Program. It is supported by Welcome Back Veterans, launched in 2008 by MLB and the Robert R. McCormick Foundation with more than $28 million in funding so far. A total of $15 million in grants has been awarded to non-profit agencies and hospitals supporting the greatest needs of Iraq and Afghanistan veterans and their families, focusing on PTSD and TBI.
The event at Spaulding Rehabilitation Hospital was part of MLB's fifth annual World Series community initiative program for Games 1-4, each game dedicated to different themes for a lasting legacy. This one was an extension of the Game 1 theme dedicated to returning military veterans and their families.
Game 2 is focusing on two long-time MLB charitable partners in Boys & Girls Clubs and Habitat for Humanity. For Game 3 in St. Louis, MLB will highlight its commitment to youth from underserved communities through Reviving Baseball in Inner Cities (RBI), the importance of education through the Breaking Barriers program, and celebrate community service through the announcement of the winner of the Robert Clemente Award presented by Chevrolet. Game 4 will look to inspire fans worldwide, to join MLB and Stand Up To Cancer (SU2C) in advancing the fight against cancer.
"Nearly 3 million young men and women have been deployed to Iraq or Afghanistan over the 12 years of war we have faced," said retired Brig. Gen. Jack Hammond, executive director of Home Base. "Of that, one out of every three is estimated to have some level of post-traumatic stress, and one out five is estimated to have to minor to medium traumatic brain injury associated with combat duty. Three million children have been affected as being close relatives of the service members who have deployed. We have had 22 service members commit suicide each day across America, one on active duty each day, and right now that exceeds the number of combat losses we face each day.
"The most important aspect of the program is connecting these veterans to care. Once they come home, they become part of the fabric of our country and they become part of the civilian fabric of our country and they become invisible. It takes the work of Major League Baseball, the Red Sox, some of our radio and TV outlets, to let them know and connect them to care. The important part is getting them to cross the threshold and say, I could use some help. Once they're there, Mass General has dedicated some of the best doctors in America to provide that care. And at state-of-the-art facilities such as Spalding and Mass General, we have the opportunity to provide world-class care to veterans and military families."
It has been said that for every warrior, there are 10 other warriors.
"And some of those warriors have been deeply affected," Hammond said. "Especially these young children. Imagine if you're a young kid about 12, 13 years old right now, your mom and dad may have left home for a year to 18 months on two to three occasions while you were a little kid. And each time they leave, it's tearing apart that fabric of that family and it affects those kids."
Rice was part of the tour, along with former Red Sox relievers Keith Foulke and Mike Timlin, and he said he was especially moved by the fact "they are willing and able to adapt."
"You're talking about veterans who have protected us," Rice said. "So they come home, and in many cases there's nothing to help them get [their lives] back. With these facilities, there's something to look forward to. With the technologies available, it's almost like if you've lost a limb, you're getting a better one.
"It's heartbreaking, but it's also heartwarming. A lot of players, even though they're professional athletes, can't take this. Because we've been professionals, we want everybody perfect, and life is not perfect. By playing the game of baseball, we go 0-for-4 or 0-for-3, and we are having fits. You come here and you see these guys and ladies here, and it puts it all in perspective. Life is very short. You could lose a limb at any time, or you could lose a life at any time."
Mark Newman is enterprise editor of MLB.com. Read and join other baseball fans on his MLB.com community blog. This story was not subject to the approval of Major League Baseball or its clubs.