Foulke promotes healthy living at youth clinic
Foulke promotes healthy living at youth clinic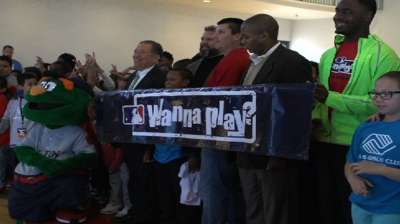 BOSTON -- Keith Foulke stood in front of a couple hundred Boys & Girls Clubs of America kids at the Roslindale Community Center on Thursday afternoon, and not a single one of them were old enough to recall that night that the Boston Red Sox finally won a World Series again.
But they knew about this man before them who, they were told, had thrown the historic final pitch of that four-game sweep of the Cardinals, a precursor to this 2013 World Series between those clubs. And they were all ears as he spoke to them at Major League Baseball's "Wanna Play?" youth clinic, teaching them the importance of living healthy, and they laughed hysterically when he gestured at Wally the Green Monster and told them not to develop a physique like that.
"It's very exciting to be here," Foulke told them. "We're here today to talk to you about staying fit and healthy and developing habits that you're going to take through your life to be healthy and strong. Some of my fondest memories growing up were playing with my buddies in my neighborhood every day, and those are still some of the guys I talk to today.
"Be active -- don't worry about the video games. Go out for a run. Play with your buddies. Just realize that you're developing habits and friendships that will last a lifetime."
The Boys & Girls Clubs event was part of MLB's fifth annual World Series community initiative program for Games 1-4, each game dedicated to different themes for a lasting legacy. Game 2 is focusing on two long-time MLB charitable partners in Boys & Girls Clubs and Habitat for Humanity. After the "Wanna Play?" clinic, MLB visited a V.A. Hospital for military veterans, followed by the presentation of a check to its Baseball Tomorrow Fund.
For Game 3 in St. Louis, MLB will highlight its commitment to youth from underserved communities through Reviving Baseball in Inner Cities (RBI), the importance of education through the Breaking Barriers program, and celebrate community service through the announcement of the winner of the Robert Clemente Award presented by Chevrolet. Game 4 will look to inspire fans worldwide, to join MLB and Stand Up To Cancer (SU2C) in advancing the fight against cancer.
"I think times have changed a lot since 30 years ago, when I was a kid," Foulke said. "There are a lot more food options now -- not all of them are healthy, with all the fast food. I think it's important to get the point across to them about eating healthy, and how it's not something that's just for now and next year, but they're developing lifelong habits now. Being active, and being with friends, those are friendships they'll keep throughout their life."
Foulke lives in Phoenix, and he said he had a blast reuniting with members of the 2004 title team while attending Game 1 on Wednesday night.
"I'm so far removed from it now that it's nice to be able to enjoy it, I mean I'm here as a fan," Foulke said. "I try to watch the games at home. I really love the city, I love coming back here, and to see the hype in the city now and see how they've adapted to these players. And these guys go out and play hard, they play the game like I like to see played. It's easy to get behind them. They're not the best-looking bunch of guys out there, but they're fun to watch, and I'm here to root for them."
What does he remember most about 2004?
"That's what we were talking about," he said. "After that Yankee series ... you can't write that stuff. It happened, and obviously it was a fairytale for us where we came back and took care of business. At that point, with the guys in that clubhouse, we were so locked in on what we had to do, we didn't think about who was on the other side. We didn't have big pep talks and 'Rah-rah, let's go.' Every man knew exactly what to do to get his job done, to help the team win. We got the breaks throughout the series, and I swear it lasted about 15 minutes. I was like, 'That was the fastest four or five days of my life.'"
Does he still have the curse-reversing baseball? That has remained an ongoing saga.
Silence followed a reporter's question. Then Foulke laughed and said, "Wait until you read the book or see the movie."
The clinic was run by the Professional Baseball Athletic Trainers Society, and Red Sox head trainer Rick Jameyson was one of the speakers.
"It's important," Jameyson said. "It's nice to have an event like this and utilize the excitement around the city to build healthy habits. We see the trends in America and everything that was leading up to this, and anything we can do to teach them the very basics of a little bit each day, eating healthy, and building on that throughout their lives. It can be as simple as doing some sit-ups while you watch TV instead of just sitting there. Just that little bit to keep yourself healthy.
"Human beings kind of take the path of least resistance. It's much easier to be entertained by a TV or video-game system, and to get outside and interact with other people or find other people is very tough. So programs like this really encourage people to get outside, whether it's through 'Wanna Play?' or activities through the Boys & Girls Clubs of America. It also builds a following for Major League Baseball in getting them excited by what we do."
Mark Newman is enterprise editor of MLB.com. Read and join other baseball fans on his MLB.com community blog. This story was not subject to the approval of Major League Baseball or its clubs.