Habitat, MLB join forces for Game 2 initiative
Habitat, MLB join forces for Game 2 initiative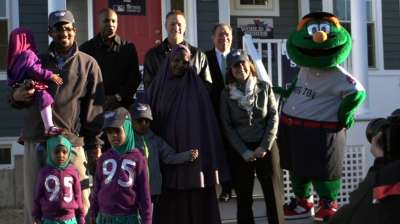 BOSTON -- Mohamed and Safiyo Bule moved from Somalia to a Kenyan refugee camp and then made their way to Boston, where they have been living with their five children in a cramped third-floor walkup apartment while he works by day as a Quest medical technician.
Their American dream has been a home to call their own, and on Thursday that was made possible by Habitat for Humanity, Major League Baseball and the Red Sox. The family was officially handed the keys to a new home in the rebuilding Dorchester community, at a crisp-air morning event on the day of Game 2 in the 109th World Series.
"This is very good for me because I have an opportunity, a place to feel safe and to raise my kids, where otherwise I have to move too much," Mohamed said. "Here it is stable and where I feel like I can have more space than where I usually lived. So this is a very exciting time for me and for my family."
Like in Detroit a year ago, this has become part of the tradition at the Fall Classic. The Habitat event was part of MLB's fifth annual World Series community initiative program for Games 1-4, each game dedicated to different themes for a lasting legacy. Game 2 is focusing on two long-time MLB charitable partners in Habitat as well as Boys & Girls Clubs of America. After the Habitat event and a "Wanna Play?" youth clinic, MLB visited a V.A. Hospital for military veterans, followed by the presentation of a check to its Baseball Tomorrow Fund.
For Game 3 in St. Louis, MLB will highlight its commitment to youth from underserved communities through Reviving Baseball in Inner Cities (RBI), the importance of education through the Breaking Barriers program, and celebrate community service through the announcement of the winner of the Robert Clemente Award presented by Chevrolet. Game 4 will look to inspire fans worldwide, to join MLB and Stand Up To Cancer (SU2C) in advancing the fight against cancer.
"There's this special atmosphere of autumn in Boston, and we feel it today," said Dr. Charles Steinberg, Red Sox executive vice president. "If you could capture the air, you would feel that this is World Series time. And when you can take the World Series at Fenway Park and now drive just a couple of miles and impact a family who is so inspiring in what they've gone through, from Somalia to Kenya to Boston, putting in hundreds of hours of sweat equity. And you cut the ribbon on their new home, it is such a real and direct impact, it makes you very proud of baseball and what Major League Baseball does and can do for a community."
While many of the 30 Major League clubs have worked for years with Habitat, MLB's relationship goes back to 2005, when it built 33 homes for families displaced by Hurricanes Katrina and Rita. "Sweat equity" is a big part of the partnership formula for success, as families like the Bules have been involved from the outset in making this dream come true. They have had to work 300 hours, whether helping build their home, working on someone else's home or working at a Habitat store that sells donated materials.
"Habitat believes everybody is entitled to a better place to live," said Lark Palermo, president and CEO of Habitat in Boston. "Our goal is to help low-income families become homeowners by combining charitable contributions with donations of materials and volunteer labor. We provide them with a zero percent interest mortgage so they can buy their house from us."
This part of Dorchester is disadvantaged, the result of riots in the wake of Dr. Martin Luther King's assassination in 1968.
"Many years ago there was a lot of flight from this area into the suburbs and a lot of abandoned buildings," Palermo said. "This particular site had a lot of damage after riots, and the city came in and razed all the buildings, and it has sat vacant for almost 35-40 years. So Habitat was really fortunate that we were chosen to redevelop it, as we have today.
"This particular family came to this country as many people do leaving behind everything they knew -- their language, their culture, their other family members -- because they believed they could make a better life in our country. And they have worked very, very diligently and conscientiously with us for their 300 hours of sweat equity, as well as attended 10 classes that we give on home ownership matters -- budgeting and finance issues."
Four-time World Series champion Mike Timlin, the former Red Sox reliever, was on hand for the Habitat ceremony and joined a tour of their new home.
"It shows support for the community, and the community shows support for MLB through this town with the Red Sox," Timlin said. "Having such a tight community, showing so much support in the time I was here, six years, it's just easy to return it. This is a great idea, and it's beautiful to help families that don't have everything that I've had.
"To see a family that needs it, it's amazing."
Mark Newman is enterprise editor of MLB.com. Read and join other baseball fans on his MLB.com community blog. This story was not subject to the approval of Major League Baseball or its clubs.