No seventh heaven: Fall Classic tied up at 1
No seventh heaven: Fall Classic tied up at 1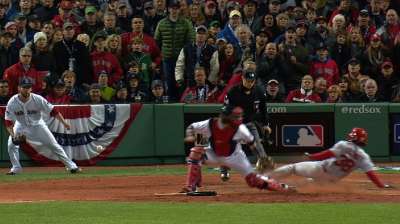 BOSTON -- The Red Sox can keep their brooms at home as they travel to St. Louis for the continuation of the World Series.
The Cardinals served notice in Thursday night's 4-2 victory in Game 2 at Fenway Park that Boston is in for a genuine battle in this Fall Classic.
Perhaps Red Sox Nation was starting to think the World Series was a walk down easy street after their team pulled off sweeps of the Cards in 2004 and the Rockies in '07, not to mention an 8-1 rout of St. Louis in Game 1 on Wednesday night.
This time, it will be different. The Cardinals started demonstrating that in a game-turning top of the seventh in Game 2.
"That's part of the game. Nobody can dictate that you're going to win four straight games every time you go out there for a World Series," said David Ortiz, who put his team ahead with a two-run homer in the sixth. "This is baseball. You're playing the best team in the National League, so this is expected."
For whatever reason, John Lackey has been the tough-luck guy in Boston's rotation all season long. It happened again Thursday.
The righty threw 95 pitches and had a 2-1 lead when manager John Farrell pulled him with two on and one out in the seventh.
"After the base hit to [Jon] Jay, we felt like we were in a pretty good situation for a matchup," said Farrell.
"At this point, it's not about me," Lackey said. "Who really cares who gets the win or loss next to their name? We're trying to win four games, trying to win a ring."
Once Lackey left, it all fell apart. Lefty Craig Breslow came on and the Cardinals pulled a double steal, pushing pinch-runner Pete Kozma to third and Jay to second. Breslow, who had been tremendous this postseason, walked Daniel Descalso to load the bases.
Then came the pivotal play of the game. Matt Carpenter hit a fly ball to medium-depth left field. At Fenway, that is often a play in which the runner is held at third. But Cards third-base coach Jose Oquendo sent Kozma and was rewarded for his aggressiveness.
Not only did Kozma beat the throw home by Jonny Gomes, but the ball bounced off the glove of catcher Jarrod Saltalamacchia, giving Jay an opening to advance to third. Breslow backed up the throw and tried to get Jay, but the lefty's throw was wide of third and went toward the seats down the left-field line, the error allowing Jay to score. Just like that, the Cardinals were back up at 3-2.
"I don't know if I had a shot," said Gomes. "Ball going to my left, really got to swing my body around to get it to the plate. I was hoping for a strong throw, and I think I had a strong throw. Just kind of hopped away from Salty a little bit."
Breslow doesn't regret throwing to third, he just wishes he had made a good throw.
"It just kind of sailed on me," said Breslow. "I looked up and I saw that I definitely had a play there. I didn't make a good throw. That's not a throw I make too much, but it's one I need to make there. That could have been a big out for us."
Instead, it was a big miss. Carlos Beltran stepped up next and came through with an RBI single to push the lead to two runs.
It was a quick turn of events for the Red Sox, who had just been staked to a 2-1 lead when Ortiz provided yet another big October moment in the bottom of the sixth, lacing a two-run homer through the chilly air and over the Green Monster against Cards righty starter Michael Wacha.
"We didn't panic," said Cardinals third baseman David Freese. "Obviously it was a tough blow, but we just came back in and said, 'Keep fighting, keep fighting. There is still a lot of game left.' We were fortunate to have a good inning after that."
For Ortiz, it was his 17th career homer in the postseason and fifth this October.
"This is what you get prepared for all year round," Ortiz said. "I don't play for July -- I play for this."
Aside from the blast from Ortiz, the Sox hardly touched Wacha, who gave up three hits, two runs and four walks while striking out six over six innings.
Both pitchers had shutdown stuff early. Lackey blinked first, albeit slightly, when Matt Holliday led off the fourth with a triple to right-center. Dustin Pedroia temporarily saved the run by making a great diving catch on a liner by Matt Adams, but Yadier Molina got the run home on a fielder's-choice groundout.
The Red Sox thought they had something going in the fourth when Pedroia led off with a double off the Green Monster and Ortiz followed with a walk. A double-play ball off the bat of Mike Napoli diffused that scoring opportunity and Gomes ended the threat by popping out to second.
"Probably the pitch of the night was the ground ball double play to Napoli," said Farrell. "We get a first and second situation, nobody out with seemingly a chance to build an inning, and then a ground-ball double play and then a popup to Gomes to get out of the inning."
Boston's best late chance to even the score or forge ahead came in the eighth, when an error on second baseman Carpenter allowed Jacoby Ellsbury to reach first to lead off the frame against reliever Carlos Martinez. But the Cards' 22-year-old righty held the lead, striking out Shane Victorino and Pedroia before allowing Ortiz's single, then getting Napoli on a popup to shortstop Kozma to strand the baserunners and end the threat.
Trevor Rosenthal, the Cardinals' 23-year-old closer, retired the Sox in order in the ninth, striking out Gomes, Saltalamacchia and pinch-hitter Daniel Nava on 11 pitches.
Now it's back to St. Louis, where the Red Sox will try to regain control of the World Series in Game 3 on Saturday, which is set for a 7:30 p.m. ET airtime on FOX, with first pitch slated for 8:07.
"This team has responded well to challenges on the road or at home," said Farrell. "I know that we'll be ready to go on Saturday over there. But this time of year, our guys embrace every challenge that comes their way, and we're looking forward to that on Saturday."
Ian Browne is a reporter for MLB.com. Read his blog, Brownie Points, and follow him on Twitter @IanMBrowne. This story was not subject to the approval of Major League Baseball or its clubs.