Winter League roundup: Profar propels Licey
Winter League roundup: Profar propels Licey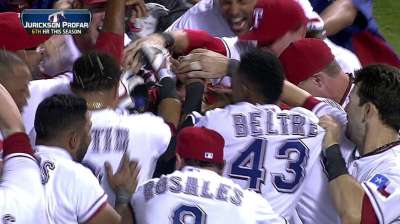 Dominican Winter League
Licey 19, Toros 8
Licey scored three runs in the first and three more in the second, broke out for eight in the third inning and put up at least one more run in every inning but the seventh, pounding the Toros with 18 hits, working 10 walks and recording nine extra-base hits. Rangers rookie Jurickson Profar went 2-for-4 with a solo homer and two walks.
Yamaico Navarro had three hits, including a triple and a homer, and scored three times. Power-hitting corner infielder Juan Francisco went 3-for-5 with a home run. Brewers Minor Leaguer Sean Halton finished 3-for-5 with a double, a homer and five RBIs. Mets Minor Leaguer Jordany Valdespin drew three walks and hit a grand slam in his only at-bat.
Aguilas 10, Estrellas 6
Aguilas used a balanced attack and two big innings to down Estrellas, scoring four in the first and three in the seventh en route to a win. Aguilas had only three extra-base hits -- two doubles by Cardinals farmhand Audry Perez and a triple by Astros shortstop Jonathan Villar -- but six of their nine starting position players drove in at least one run. Aguilas also stole second base six times against Twins catcher Chris Herrmann.
Escogido-Gigantes: Postponed
Venezuelan Winter League
Zulia 7, Lara 6
Zulia scored four runs in the eighth and withstood Lara's four-run rally in the ninth to escape with a win. Luis Ugueto and Ernesto Meija each drove in two runs for Zulia, and starter Roy Merritt allowed one earned run over 5 2/3 innings. Catcher Sandy Leon, the Nationals' No. 15 prospect, went 2-for-5 with a triple and two runs scored.
Margarita 6, La Guiara 3
Two walks and an Antoan Richardson triple sparked a three-run rally in the third inning for Margarita, then the two teams traded three spots in the fifth. Richardson tripled to left in the third to score Rene Reyes and Henry Blanco, who had walked, then Breyvic Valera knocked a sacrifice fly to left to score Richardson. Cesar Hernandez hit a three-run homer in the fifth to put Margarita on top by six, while La Guiara benefitted from a Zach Walters error and a Paul Smyth wild pitch to respond with three in the bottom half of the inning.
Magallanes 4, Caracas 2
Lew Ford and Mario Lisson hit back-to-back homers in the bottom of the third, breaking a 2-2 tie and leading Magallanes to the victory. Starter Carlos Zambrano gave up a two-run homer to No. 17 Indians prospect Jesus Aguilar in the top of the third, but seven Magallanes pitchers combined to hold Caracas scoreless the rest of the way. Magallanes scored all four runs against Colorado's Collin McHugh, who pitched only 2 1/3 innings. Yankees farmhand Adonis Garcia drove in one run in the second on a double to left then came around to score on a single by Rangers' No. 3 prospect Rougned Odor.
Caribes 6, Aragua 2
Former Pirates, Giants and Astros infielder Jose Castillo blasted two homers and drove in four runs, sparking Caribes to a win over Aragua. Castillo, 32, hit a three-run shot in the fifth and Niuman Romero added a solo shot, giving Caribes a lead it wouldn't relinquish. Castillo tacked on another run for Caribes in the eighth on a solo homer.
Mexican Pacific League
Guasave 5, Mexicali 3
Kalian Sams hit a three-run homer in the first inning, and Guasave tacked on a run in the third and another in the fourth to ride out a two-run victory. Orioles Minor Leaguer Zelous Wheeler and right fielder Ivan Araujo each drove in a run for Guasave, and starter Juan Delgadillo allowed only two runs on five hits over six innings.
Hermosillo 9, Culiacan 5
Culiacan ralled for three runs in the bottom of the ninth, but Nationals farmhand Christian Garcia induced a force out at second base to end the game and ensure that Hermosillo's six-run ninth inning would stand up. Jesus Loya had the biggest hit in that inning, a grand slam to center field, while Jerry Owens added an RBI double and Jose Aguilar drove in a run on a sacrifice fly.
Obregon 5, Los Mochis 0
Starter Marco Carrillo allowed only two hits over six innings and relivers Oswaldo Martinez, Angel Adrian Ramirez and Derek Eitel combined for three hitless frames as Obregon rolled past Los Mochis. Obregon walked five batters, four of them issued by Carrillo, but Los Mochis could only muster two singles. Shortstop Daniel Castro led the way offensively for Obregon, hitting a two-run homer in the second, and designated hitter Christian Villanueva drove in two runs.
Mazatlan 3, Navojoa 2
Bryan Petersen drove in Jose Orozco with a sacrifice fly to left field in the 10th inning, breaking a 2-2 tie and leading Mazatlan to the win. Orozco had entered as a pinch-runner for Mario Santana, who hit a leadoff single to center, then took second on pitcher Alejandro Garrido's error and third on Henry Mateo's sacrifice bunt.
Adam Berry is a reporter for MLB.com. Follow him on Twitter at @adamdberry. This story was not subject to the approval of Major League Baseball or its clubs.