Timlin likes Red Sox to win Fall Classic in six games
Timlin likes Red Sox to win Fall Classic in six games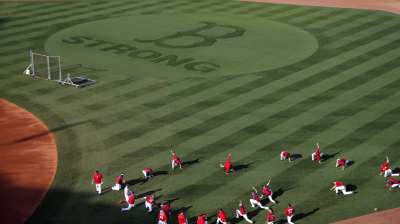 BOSTON -- Mike Timlin owns four World Series rings after 18 years of work in Major League bullpens, the first two with Toronto in 1992-93 and the second two with Boston in 2004 and '07.
On Wednesday afternoon, hours before the Cardinals and Red Sox began Game 1 of the 109th World Series, Timlin was back in a familiar element. This time, it was as a retired legend, appearing on behalf of Major League Baseball at a T-Mobile store in downtown Boston, greeting fans as part of the ongoing T-Mobile Trophy Tour and predicting a "dogfight" in this rematch of the 2004 series.
"Being in Boston, it's incredible," said Timlin, the 47-year-old Texan. "The fans here, they love the Red Sox. It's an amazing thing that these guys are able to go back to the World Series and play these games. The whole city, it's all red. They're all rooting the Red Sox on, it's going to be a great time.
"I think it's pretty cool. You can come out and interact with the fans, and as they line up, you get to talk with them, they take pictures with the trophy. It's a big deal."
This is a rematch of the same 2004 series that finally brought Boston its first World Series title in 86 years, a sweep against those Cards. Timlin said he sees no such runaway train in this Fall Classic, certainly no overpowering run like he and teammates experienced back then, nor a runaway sweep like he and the Sox enjoyed against the Rockies in '07.
"These games are going to be pretty tough," Timlin said. "I think the St. Louis Cardinals are going to be a little tougher than they were in '04. The pitching staff is a whole lot stronger from top to bottom. It's going to be a dogfight."
Timlin's last season was 2008, and the Red Sox honored him with Mike Timlin Day on April 19, 2009. He watches this Red Sox team and sees similarities in the one that reversed the Curse of the Bambino in 2004. Those were the days of Timlin, Alan Embree and Keith Foulke in the back of the bullpen; this one has Junichi Tazawa, Craig Breslow and Koji Uehara.
"To see these guys play as well as they did this year, and watching the team and then seeing us, kind of thinking back to 2004, how we tried to rally around something, and we had something to motivate us," Timlin said. "This team is very comparable. They know how to win. They have been in bad situations before and they've come out winners, so they know how to get the job done.
"You see the similarities of the personalities. Everybody loves each other. This team actually loves each other. That's how we were in 2004. We call it a battle, I mean it's a game. But you go to war with the guys all season long. To see these guys pick each other up, the adversity they've had with injuries, guys being shipped down and coming back up, they continue to produce and continue to win. Having John Farrell as their manager, to see him come back and do what he's doing with this team is amazing."
Timlin said you can't point to one particular reason for the Red Sox's turnaround from 2012 -- and he said the inability to do that is "a positive, because so many elements have contributed to what's going on."
"That's what makes them such a great team. Everybody contributes," Timlin said. "It's not just one guy all the time. It's not just David Ortiz, it's not just Mike Napoli, it's not just Jon Lester or Clay Buchholz, it's everybody. Everybody contributes when someone else falters, they pick each other up. It's been great.
"To see them go from, as it was put, worst to first, is pretty amazing. We see some relevant points with the team that is in 2013, they are an awesome team. Obviously, they had a rallying point on April 15 with the bombing. That brought them together as a team a whole lot more. They just accelerated, and that kind of took the stress away from the city of Boston, coming out and playing and giving them something else to think about."
Speaking as a former Sox reliever, Timlin said the emergence of Uehara as closer has been "really amazing."
"To see a guy who's throwing 90 [mph] and under come in and close games, and throwing what David Ross calls 'The Invisible,' it's amazing," Timlin said. "I've seen him pitch from across the field, and it's not that spectacular when you're out there. But to watch him go out there and just continue to throw strikes and get guys out with what he has -- he has a bulldog mentality, not superman stuff, and that's what makes him incredible.
"He's throwing 88-89-mph fastballs right by guys, because they're guessing completely wrong. The only glitch he had was against Tampa Bay, and that guy guessed right with the splitter, he got it down and he hit it. But other than, it's been lights out."
Few players in the last quarter-century have been on the receiving end of this trophy as often as Timlin. He specialized in being part of breakthrough winners, too. Toronto's 1992 triumph over Atlanta was Canada's first World Series title. Then there was the famous 2004 sweep, which followed the greatest comeback in baseball history, eliminating the Yankees in seven.
So who does Timlin like?
"My guess is Red Sox in six," Timlin said. "But I think the way it boils down to pitching staffs, you might see a Game 7."
Mark Newman is enterprise editor of MLB.com. Read and join other baseball fans on his MLB.com community blog. This story was not subject to the approval of Major League Baseball or its clubs.