Precision tools: Lester's gem, fast start power rout
Precision tools: Lester's gem, fast start power rout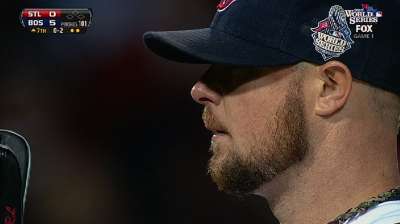 BOSTON -- With the bright lights of the World Series shining down on them for the first time in six years, the Red Sox played with the type of clinical precision that has marked their season.
If this was a bigger stage, it was one the Red Sox clearly relished being on in an 8-1 victory over the Cardinals in Wednesday night's Game 1 at an electric Fenway Park.
Behind a dominant performance by ace Jon Lester and an offense that kicked the door in when the Cards gave them extra opportunities, Boston took control of the game early and never let go.
If there's a balance in getting caught up in the moment but not getting too amped up by the adrenaline, Boston seems to have it mastered.
"Yeah, watching that flyover today, their team, our team on the line, we know what's at stake, we know what's at hand," said left fielder Jonny Gomes. "We know it's the big stage. That's why the Major League Baseball season is so long. You need all those games to build an identity, and we just kept it rolling today."
Dating back to 2004, the Red Sox have won their past nine World Series games.
In the past two, Lester has been the winning pitcher. Picking up right where he left off in the Game 4 clincher at Colorado in 2007, the power lefty held the Cardinals to five hits over his 7 2/3 shutout innings, walking one and striking out eight.
Lester is a far more polished pitcher than he was when he made his first World Series appearance, and he felt completely in control of his surroundings.
"I think just the preparation involved," Lester said. "Obviously there's going to be a lot of festivities, the introductions, the flyovers, the national anthems, everything is quadrupled because it's the World Series. So you know how to handle all those situations, your warmup time and so forth."
Lester was the first starter to hold the opponent scoreless in the opening game of the World Series since the Reds' Jose Rijo did so against the A's in 1990.
"He was great," said second baseman Dustin Pedroia. "He's like that all the time. We're used to seeing it. It's a big stage. He was locating to both sides and his cutter is always great. That opens up everything for him."
When David Ortiz launched a two-run homer to right in the bottom of the seventh, the rout was on at 7-0. The big slugger, the only Boston player to be on the club's past three World Series teams, had two hits, scored twice and drove in three.
Big Papi took in a curtain call after his 16th career postseason homer. Ortiz nearly had a grand slam earlier in the game, only to be robbed by Carlos Beltran.
The impressive part of Ortiz's homer was that it came on a 96-mph heater from Cards lefty Kevin Siegrist, who hadn't given up a long ball to a left-handed hitter all year.
"I know that he's got a good fastball and a guy with that kind of fastball, you're not going to go out there and try to look for a changeup or a slider," Ortiz said. "He's got a good fastball, and I still can hit fastballs."
Pedroia also had a two-hit night while scoring twice. Mike Napoli came up with a three-run double in the first, putting Boston ahead for good.
It was an action-packed bottom of the first against Cardinals ace Adam Wainwright. Jacoby Ellsbury started it with a walk. With one out, Pedroia lined a single to center.
Then came the controversy, as Ortiz hit a grounder to second that Matt Carpenter flipped to Pete Kozma for the force. Only Kozma dropped the ball. Second-base umpire Dana DeMuth initially called Pedroia out at second. Manager John Farrell went out to plead his case, and after the umpires huddled, they reversed the call, much to the delight of the Fenway faithful.
"I just slid in there and I thought it wasn't on the transfer," said Pedroia. "I saw it. I saw what everyone else did. I'm glad they got together and got it right. I was just waiting. They have umpires -- they're everywhere. I was glad they all got together, and I'm sure someone had a better view. That's why they made that decision."
Napoli capitalized on a big RBI opportunity by crushing a three-run double to the gap in left-center.
Though it is his first Fall Classic go-around with the Red Sox, Napoli was a stud for the Rangers against St. Louis in 2011.
"I love this stage," Napoli said. "It's in the spotlight. I really enjoy this time of year, I guess. But it's just going out there and getting the job done."
The Cardinals continued to unravel in the second. Stephen Drew hit a popup that Wainwright seemed to motion for initially. The ball fell right between Wainwright and catcher Yadier Molina for a single. David Ross followed with a single up the middle. With one out, there was more bad news for St. Louis, as Kozma muffed a grounder from Shane Victorino for his second error. Pedroia came up next and belted one through the hole between third and short for an RBI single.
"That's the game in the playoffs," said Kozma. "If you give them extra outs in the playoffs, they're going to score."
The Red Sox continue to stand out with their opportunistic nature.
"Well, I think this team does, but to tell you the truth, I think all good teams do," said Gomes. "That's how you become good, is you have to capitalize on mistakes. Coming into this series, it's a race to adjustments to decide the winner. And it's whoever doesn't make mistakes and capitalizes on the other mistakes. That sums it up."
Even when the Cardinals made a great play on defense, they had misfortune. Ortiz hammered one to right in the first, and Beltran drifted back and literally snatched the ball out of the Cards' bullpen. Instead of a grand slam, it was a sacrifice fly to make it 5-0 in favor of Boston. The bad news for St. Louis was that Beltran exited the game with a bruised rib in the bottom of the third.
"Wow, nice play," said Ortiz. "Hopefully he's doing well."
Top prospect Xander Bogaerts tallied an RBI in his World Series debut, as the 21-year-old lifted a sacrifice fly in the eighth inning to close Boston's scoring.
Matt Holliday's homer off Ryan Dempster in the ninth foiled the Red Sox's attempt to become the first team to record a shutout in Game 1 of the World Series since Rijo's Reds in 1990.
For openers, the Red Sox couldn't have drawn it up any better. But they know there is a lot more to do.
"It's the beginning," Ortiz said. "Got to come back hungry tomorrow and play the game the way we did tonight."
Ian Browne is a reporter for MLB.com. Read his blog, Brownie Points, and follow him on Twitter @IanMBrowne. This story was not subject to the approval of Major League Baseball or its clubs.