Defensive miscues haunt Cardinals in Game 1 loss
Defensive miscues haunt Cardinals in Game 1 loss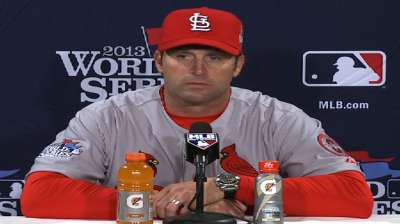 BOSTON -- The Cardinals arrived in Boston insistent that this would be no repeat of 2004, when a 105-win season was soured by a World Series sweep at the hands of the Red Sox.
The organization's opportunity for redemption could not have gotten off to a more inauspicious start.
With an uncharacteristically ragged performance, the Cardinals, with ace Adam Wainwright on the mound, dropped Game 1 of the World Series, 8-1, in front of 38,345 fans at Fenway Park on Wednesday. Errors and misplays sunk the Cards into a five-run deficit before Wainwright could record his sixth out.
"We had a wakeup call," manager Mike Matheny said afterward. "This is not the kind of team that we've been all season. And they're frustrated [and] I'm sure embarrassed to a point."
It was St. Louis' second defensively shaky game this postseason, and the club's second three-error performance of the year, too. And in a cruel twist on a crisp night, the most costly play could just be the one that actually was made.
Not only are the Cardinals staring at the task of trying to become the third team in the last 17 years to capture a championship after dropping Game 1, but they may also have to undertake that attempt without one of October's best. Carlos Beltran, after robbing David Ortiz of a second-inning grand slam, left the game with a right rib contusion.
Beltran, appearing in a World Series for the first time in his 16-year career, was taken to a local hospital during the game and did receive some good news. X-rays and a CT scan both came back negative. General manager John Mozeliak said it would be a "game-time decision" as to whether Beltran would be able to play in Game 2 on Thursday (6:30 p.m. CT air time on FOX, 7:07 first pitch).
Beltran's absence would leave a sizeable void in the Cards' lineup. He owns a career .335 postseason average and ranks in the top eight on Major League Baseball's all-time list with 16 homers and 37 RBIs.
"Obviously, you want to see your club at full strength," Mozeliak said. "You don't want to go into this thing where you lose somebody early on. We'll just have to see. Hopefully, he'll be ready to go."
While the Cardinals await a more definitive prognosis on Beltran, they will have to mull over how quickly the fundamentals went awry Wednesday. Wainwright closed the second inning with his 60th pitch of the night. By that point, Pete Kozma had committed a pair of errors, Shane Robinson had fumbled a pickup in center, a popup had fallen between Wainwright and catcher Yadier Molina and two other balls narrowly skipped past infielders.
It led to five runs -- two of which were unearned -- and a deficit St. Louis never seriously threatened against Boston lefty Jon Lester. Though Wainwright would follow with three scoreless innings, his first career World Series start will be remembered for all that went wrong. He included his performance at the top of that list.
"Tonight was a clear case of the starting pitcher -- me -- going out there and setting the wrong tone. It was terrible. You cannot walk the leadoff hitter of the game [Jacoby Ellsbury], especially a guy who is as dangerous as he is on the basepaths," said Wainwright, who had walked just one in his previous 23 postseason innings.
A one-out single by Dustin Pedroia brought up Ortiz, and the Cards defended him with a shift, shading second baseman Matt Carpenter toward first and moving shortstop Kozma to the right side of second base.
Ortiz hit into the defense, but a potential inning-ending double play was foiled by a loose throw from Carpenter that Kozma didn't glove. Second-base umpire Dana DeMuth initially called Pedroia out, believing Kozma had lost the ball on the glove-to-hand transfer. After a lengthy argument from Red Sox manager John Farrell, the umpiring crew conferred and eventually overturned the call.
"We got together and everybody said ... we started with each guy, 'What do you have? A hundred percent?'" crew chief John Hirschbeck explained postgame. "Each guy said, 'I'm a hundred percent.' When they got to me, I said, 'I'm a hundred percent, too.'"
Replays -- and Kozma -- confirmed the right call was ultimately made.
"I just missed it," Kozma said. "Carpenter made a good feed, and I just didn't get my glove in it."
"That was huge," Molina said. "If we turn the double play right there, it's going to be a different game."
With the bases then loaded, Mike Napoli cleared them with a double to left-center. It took 31 pitches before Wainwright closed the inning. It was reminiscent of '04, when the Cardinals opened their World Series visit to Boston by allowing the Red Sox to tally four first-inning runs.
"That whole inning was kind of a whirlwind," Carpenter said. "It was getting away from us before we could stop it or really figure out what was going on. That call, obviously, was a big, changing moment. ... I don't think it could have gone any stranger and any worse for the Cardinals."
The Cards were no sharper defensively in the second, which started with Wainwright and Molina staring at each other as a popup fell between them. David Ross lined a single just out of Carpenter's reach. Kozma loaded the bases again on his second error, a backhanded stop the typically sure-handed defender couldn't make.
After an RBI single by Pedroia, Beltran ran full-speed into the right-field wall while robbing Ortiz of his second grand slam this postseason. He would be replaced in the field by Jon Jay the next inning.
St. Louis' offense couldn't bail out Wainwright, who had allowed four earned runs in his previous three postseason starts combined. A bases-loaded opportunity in the fourth was squashed when David Freese grounded into a double play. Jay grounded out with runners on second and third in the fifth.
Lester limited the Cardinals to five hits in 7 2/3 innings as they fell to 21-26 against left-handed pitchers this year. The Cards' lone run -- courtesy of Matt Holliday's home run -- came off Ryan Dempster in the ninth.
"Jonny has been the leader of this rotation all year long," Red Sox outfielder Shane Victorino said. "He went out there again tonight and did what he does best. He was great. We capitalized. That's the most important thing."
Lester received additional run support with another Cardinals miscue. A throwing error charged to Freese extended the seventh long enough for Ortiz to blast a two-run home run to right that no outfielder could reach. It was served up by reliever Kevin Siegrist, who had not been taken deep by a left-handed hitter this season.
Boston tagged rookie reliever Carlos Martinez for an eighth-inning run, too.
"It's not at all what you had hoped or envisioned," Mozeliak said of the night's events. "The fact that you're giving a team like that extra outs is very difficult. And I think in Waino's case, he was pitching in more defensive counts than normal. Combine all that, and obviously the end result was not good."
This is the first time in the Cardinals' last four postseason series that they have lost Game 1. In World Series history, the winner of the first game has gone on to take the Series 62 percent of the time. In order to fall on the other end of that statistic, St. Louis will first have to halt Boston's nine-game World Series winning streak, which traces back to that first game against the Cards in '04.
"This wasn't a good game for us, but the good news is that it's just one," Carpenter said. "That's why you play seven."
Jenifer Langosch is a reporter for MLB.com. Read her blog, By Gosh, It's Langosch, and follow her on Twitter @LangoschMLB. This story was not subject to the approval of Major League Baseball or its clubs.