Sox hitters won't rush against quick-moving Cardinals
Sox hitters won't rush against quick-moving Cardinals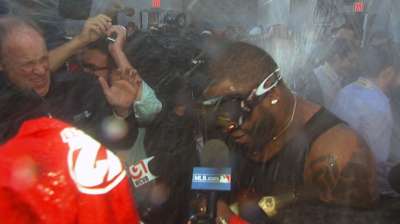 BOSTON -- Don't expect to sit down for a World Series game and be in bed three hours later.
Just because the quick-moving, strike-throwing Cardinals make up half the World Series tandem, quicker games aren't guaranteed. At least Red Sox hitters aren't preparing to move any quicker than they normally do.
"They're going to do whatever they need to do," said Boston hitting coach Greg Colbrunn. "The biggest thing is for the hitter not to feel rushed at the plate."
In Game 2 of the National League Championship Series on Oct. 12, the Cardinals shut out the Dodgers, 1-0. The game took two hours, 40 minutes.
Later that day, the Tigers shut out the Red Sox, 1-0, in Game 1 of the American League Championship Series. The game took three hours, 56 minutes.
The difference was almost 80 minutes. While the AL games tend to move a little slower, the Red Sox's patient approach -- while in the batters' box or standing beside it -- has provided some long affairs.
"I don't think we go out on purpose trying to have a 3 1/2-hour game," Colbrunn said. "The game dictates it."
Cardinal pitchers have developed the stereotype of spending little time between pitches and moving the game along with some speed, but the Red Sox may not let them.
"You get in there and the pitcher is going [quickly], you have that ability [to step out]," Colbrunn said. "Do you do it on purpose sometimes? Maybe, maybe not. The goal is to not feel rushed."
Ian Browne is a reporter for MLB.com. Read his blog, Brownie Points, and follow him on Twitter @IanMBrowne. Jason Mastrodonato is a reporter for MLB.com. Follow him on Twitter @jmastrodonato. This story was not subject to the approval of Major League Baseball or its clubs.