Cards use workout to get acquainted with Monster
Cards use workout to get acquainted with Monster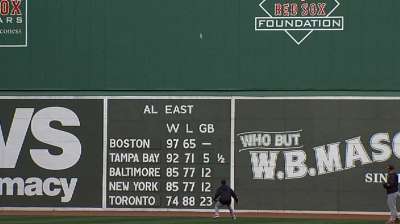 BOSTON -- The Cardinals held a workout at Fenway Park on Tuesday in order to get acclimated with a ballpark only a handful of players had previously visited. Most importantly, it gave everyone a chance to size up the Green Monster.
An extended portion of the Cardinals' on-field time was spent having outfielders get an idea of the various bounces balls can take off the 37-foot, 2-inch-high wall that sits a modest 310-315 feet away from home plate. First-base coach Chris Maloney stood on the edge of the infield dirt hitting balls off the wall for his players to track.
The Cardinals are fortunate that both their corner outfielders do have some experience in Boston. Matt Holliday has played in six games at Fenway Park. Carlos Beltran, who will have to handle short walls and awkward dimensions in right field, played here 25 times, mostly as a member of the Royals.
The key to handling the quirks?
"Just make sure you chase the ball," Holliday said. "It can hit and it can bounce any way. I think everybody being ready, the shortstop and middle infielders, in case the ball bounces funny and hits one of the crevices. It's everybody being aware that if the ball does get away from me or over my head, that they can come out there and get it."
Added Beltran: "Communication has to be real important for us to be successful."
The infielders took instruction, too, as it will be their responsibility to back up the outfielders if balls bounce in unanticipated directions.
"A lot of us who have never played here before have our one chance to go out and see how the angles and the nooks and crannies play," said Daniel Descalso, who could see playing time at third or short. "When the games come, we just have to be ready for anything. Be ready for a funny bounce, because that could be the difference between a win or a loss."
Jenifer Langosch is a reporter for MLB.com. Read her blog, By Gosh, It's Langosch, and follow her on Twitter @LangoschMLB. This story was not subject to the approval of Major League Baseball or its clubs.