Dominant in postseason, Lester draws Game 1 start
Dominant in postseason, Lester draws Game 1 start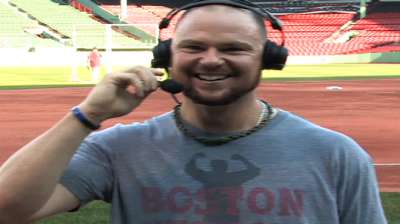 BOSTON -- Jon Lester has pitched every type of Game 1 in his career except one -- the opener of a World Series.
The lefty -- the man the Red Sox consider their ace -- will draw that honor on Wednesday night (7:30 ET air time on FOX/8:07 first pitch) in Game 1 against Adam Wainwright and the Cardinals at Fenway Park.
Lester had a dominant second half and it has carried into the postseason. In three starts this October, Lester is 2-1 with a 2.29 ERA. His only loss was a 1-0 defeat to the Tigers' Anibal Sanchez in Game 1 of the American League Championship Series.
Red Sox manager John Farrell was Lester's pitching coach the last time Boston made the World Series, in 2007.
In the clinching Game 4 of the '07 Fall Classic at Colorado, Lester earned the win. But he's evolved into an upper-echelon pitcher in the ensuing six years.
"He knows himself better," Farrell said. "He knows what his checkpoints are. He knows where his strengths lie. And I think more importantly, he can trust himself. What I mean by that is that in his first couple of years in his big league career, he was so locked in on trying to figure out what the opposition was doing and going in to attack that.
"In other words, what was their game plan against him? Which you didn't know. You had no way of knowing until you set the approach that you were going to execute against them first. So he's trusting in his abilities and establishing himself on the mound initially and then responding to how they adjust to him. He's very much a concrete thinker and I think he's become much more at ease with himself to know, 'Not everything is in my control, and yet I trust my abilities to perform well.'"
The Red Sox will set the rest of their rotation Tuesday. Either John Lackey or Clay Buchholz is most likely to start Game 2, with the other one getting the nod in Game 3 at St. Louis. Jake Peavy is all but certain to start Game 4.
"I pitched against the Cardinals last year -- a lot of the same guys were in the lineup," said Peavy. "If you go back and watch that tape and watch what they do, when you watch them live and get a feel for what's going on and their personality, the Cardinals are a great bunch."
Ian Browne is a reporter for MLB.com. Read his blog, Brownie Points, and follow him on Twitter @IanMBrowne. Jason Mastrodonato is a reporter for MLB.com. Follow him on Twitter @jmastrodonato. This story was not subject to the approval of Major League Baseball or its clubs.