To Sox, Drew's glovework offsets cold bat
To Sox, Drew's glovework offsets cold bat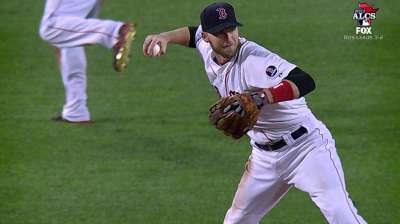 BOSTON -- Shortstops hitting .086 on a team trying to earn a World Series berth don't often receive standing ovations.
But Stephen Drew found himself on the good side of the Fenway Park crowd during the Red Sox's 5-2 win over the Tigers in Game 6 of the American League Championship Series on Saturday.
Before the grand slam by Shane Victorino, the Red Sox first had to escape the seventh inning, when two runners were on base and Miguel Cabrera was at the plate.
With two outs and the Tigers leading, 2-1, Cabrera smacked a hard grounder up the middle. It was almost certainly an RBI, until Drew came sprinting over from his spot between second and third, made a diving snag and threw out Cabrera at first.
Rally over. Minutes later, Victorino hit his grand slam.
"It's another run, that's what's huge," Drew said. "You don't know what that inning could have been. I'm just thankful that I was in the right mindset to position myself well to get that ball. It's a tough play. I'm glad to come through right there."
Drew, who is 3-for-35 with 12 strikeouts and one walk in the postseason, continues to see his name in the lineup because of his defense. He's happy to contribute in some way.
"Did I think I would be able to get it? I don't know, to be honest," Drew said. "Luckily I was able to get it. I knew [Dustin Pedroia] wasn't going to be there and the only play I was going to have is to get up and try and throw. I knew Miggy was hurt, but at the end of the day, you still have to make the play, and I was able to do that."
Drew also made a leaping grab to catch a Victor Martinez line drive in the top of the fourth inning.
Expect the Red Sox to stick with their shortstop.
"I'm not saying that we don't have good defenders otherwise," manager John Farrell said before Game 6, "but Stephen has taken good swings. We all recognize the struggles that are there. But he shores up the middle of our infield so well. I'm certainly going to preserve that."
Jason Mastrodonato is a reporter for MLB.com. Follow him on Twitter @jmastrodonato. This story was not subject to the approval of Major League Baseball or its clubs.