Oct. 19 Shane Victorino postgame interview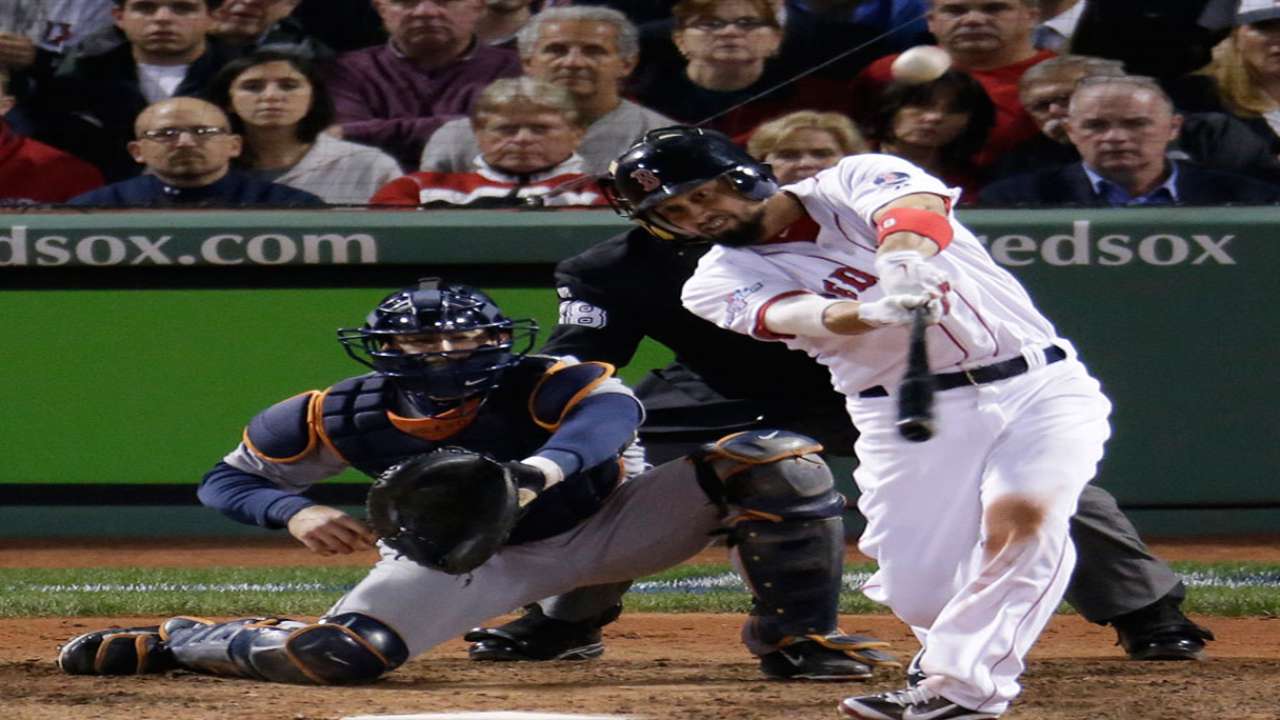 Q. Take us through that at‑bat.
SHANE VICTORINO: I won't talk about the approach or what I thought ‑‑ no, honestly, I told myself get a pitch I can handle. Try to tie the game, at the minimum. Give ourselves ‑‑ get us back in the game and give us another chance. Fortunately I got a 0‑2 curveball that I could handle and was able to hit a home run.
It was a special moment. It's been a special year, we battled and good moments like this, you cherish it.
Q. The fact that you turned around to bat right‑handed in the middle of the season, what led to that and the fact that you can do this now against a right‑hander, what does that mean to you?
SHANE VICTORINO: You know, as we all know, it's tough to hit from one side of the plate, let alone be a switch‑hitter. It was one of those things that I've worked so hard on to be successful at. And to have the injuries that happened to me this year, with the hamstring and the back, and me saying to myself, hey, what if I just hit from the right side. It was a chance I took. The organization let me take a chance. But honestly with success, they definitely wanted me to continue.
My legs are feeling better. I still feel here and there when I try to work on it, from the left side, my back and my hamstring. But, hey, it's something you work on. I've done it all my life. And it's something that I continue to work hard on and try to be ‑‑ it's almost like another challenge, it's like becoming a switch‑hitter, it was like a challenge for me to learn to be a switch‑hitter. And it was a challenge that let me see if I can do this at the big league level as long as I can. Obviously it was hard, but again, I see it as a challenge and I'm going to continue to work on it.
Q. Maybe this is a silly question, but you turned yourself around yesterday ‑‑ or last game, rather. Was there any thought of going up left‑handed in this game?
SHANE VICTORINO: Oh, absolutely. You probably weren't there the other night when the question was asked after the game and I said, we're squashing that for this year, I'm going to stick exclusively with the right side. Hey, I might have a trick up my sleeves in the playoffs. I'm confident to say that I'm going to continue to work from the right side on the rest of this year. For this year it's pretty much a done deal.
Q. When you came here, you come to an organization that hadn't played well the last year. What made you see that it might turn around here, and when did you really realize that something special was happening?
SHANE VICTORINO: You know, honestly it was one of those things, you know, I think about, you know, the Red Sox, the franchise. Again, playing against these guys, getting an opportunity. It's a no‑brainer to me when I got the opportunity to come here.
And to me when it got special was day 1 of Spring Training. We came in with the mindset that we're all going to go out and give it our best. Take one at‑bat at a time, one pitch at a time, one game at a time from Spring Training. And it's continued. Obviously all out tonight.
That question was definitely in my head, how am I going to explain this not getting the bunt down. And in a crucial situation where you've got to minimize the mistakes, every single thing counts. It makes it that much more special. I knew all along this was going to be a special team.
Q. When you hit the ball, were you thinking, sacrifice fly, off the wall, over the wall, all of the above, did you know?
SHANE VICTORINO: Honestly, it was all of the above. The first thought was get enough air to tie the game. And then I thought this could get up over the wall. All the emotions went through my mind.
No disrespect, and I would never be one of those guys, if guys took it wrong, but I was definitely excited running around the bases, the pounding in my chest. I've been that kind of guy. I don't like when teams show that kind of emotion. And I hope they understand it was a special moment for me, for the city. And no disrespect, again, the guys across the way, we played the Tigers, I respect those guys like no other, the staff, everybody. It was a special moment. And like I said, no disrespect to them, but this was a battle to the end.
Q. I think you've hit prior to tonight maybe one home run in the last month, you haven't had a great LCS, you couldn't get the bunt down.
SHANE VICTORINO: I had an error in the first game.
Q. It kind of shows the professional in you. You looked confident when you went up, you didn't seem shaky. Does any of that enter into your mind?
SHANE VICTORINO: I'm not down and out, my parents, my brother, this is one of the cliches that I've used, is play the game like it's your last. Play to the end, play to the last out.
As I said, I was definitely ‑‑ lots of thoughts were going through my head, how I was going to explain not getting that bunt down, all these kind of emotions. When I got up, do what you do best, go out and have fun doing what you're doing. And it worked this time. I take all the credit and my teammates take all the credit for pushing me to work hard, to continue to stay positive. Trust me, I was down and out, I heard people talking about dropping me in the lineup. It makes me want to go out and be that much better.
Q. Given that you heard people say dropping you on the lineup, what does it mean to you that you went ahead and did that?
SHANE VICTORINO: Hey, it's not the first time my back was against the wall or people doubted me. And I say it in a positive way that I've always been that kind of guy, it's been my drive. People said you're a little too small, I don't know if you can ever get to the big leagues. Scout told my mom in high school, he'll never be a Major League player, he'll never get there. It's stuff that motivates me. Lucky enough it worked out for me.