To the Victor go the spoils: Sox back in Fall Classic
To the Victor go the spoils: Sox back in Fall Classic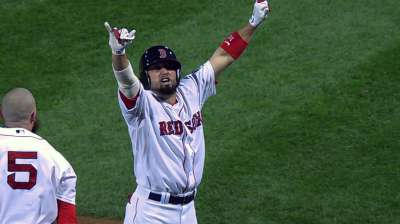 BOSTON -- At some point during this surreal odyssey that wound up with the Red Sox getting to the World Series, their heroics went from the surprising to the expected.
As in, even when doubts began to creep in elsewhere, the belief from field level never wavered.
So if Shane Victorino, who had spent the entire American League Championship Series in a slump, didn't seem to be the ideal man to be at the plate in a pivotal situation in Game 6, the Red Sox were thrilled to have him there.
And just like that, the slump ended with one magical swing -- a grand slam over the Green Monster with one out in the bottom of the seventh inning -- that led Boston to a 5-2 victory over the Tigers, not to mention an AL pennant.
In the end, it was the swing that swung the series.
When Victorino strode to the plate against Jose Veras, the Sox were actually down a run and eight outs away from the possibility of having to face Justin Verlander in Game 7.
"I told myself, 'Get a pitch I can handle. Try to tie the game, at the minimum. Give ourselves a chance. Get us back in the game and give us another chance,'" said Victorino. "Fortunately I got a 0-2 curveball that I could handle and was able to hit a home run. It was a special moment. It's been a special year. We battled, and to have good moments like this, you cherish it."
In a season full of thrills, this one was the biggest yet. Victorino was in a 2-for-23 slump before ripping his second career grand slam in postseason play, tying Jim Thome for the all-time record.
"He's a money player," said David Ortiz. "I don't care that he was 2-for-23, or 0-for-whatever. Money players come through at the right time, and he did."
The Red Sox have a room full of money players, and they'll have their next chance to prove it in Game 1 of the World Series on Wednesday against the Cardinals (7:30 p.m. ET air time, 8:07 p.m. first pitch on FOX) at Fenway. The joyride continues for a team which won 69 games a year ago, only to win 97 this season -- the same number as the formidable squad they will face in the Fall Classic.
"I have too many emotions," Victorino said. "Boston strong! When I came here, people counted me out and said that I was done. I wanted to prove something."
To get to the World Series, the Sox had to outlast a tough Tigers team that gave them pretty much everything they could handle all series long.
"This series had a little bit of everything, comeback wins, unbelievable starting pitching, particularly on their part," said manager John Farrell. "Tonight we finally broke through on [Max] Scherzer, who's been so dominant against us. You couldn't have asked for a better series. It tested everything we had, and we just want to congratulate [the Tigers] on a great year."
When Scherzer, the favorite for the AL Cy Young Award, took the mound for the bottom of the seventh, the Tigers still had visions of that handoff to Verlander in Game 7.
But Boston would have none of that.
The game-breaking, series-breaking rally in that seventh started when Jonny Gomes hit a double off the Monster that was maybe a foot from being a home run.
"Yeah, where there's smoke, there's fire, and that created a little smoke," said Gomes.
After Scherzer struck out Stephen Drew, top prospect Xander Bogaerts once again showed his poise by drawing a six-pitch walk, with the final pitch missing the strike zone by inches, if at all.
"He was seeing the ball," said Red Sox hitting coach Greg Colbrunn. "His ability to slow the game down is fun to watch. I mean, he goes up there, no panic. He put together some great at-bats."
Lefty Drew Smyly came on to face Jacoby Ellsbury and did his job, getting a ground ball. However, shortstop Jose Iglesias didn't do his, dropping the ball as he looked to flip it to second for the forceout. That error proved monumental, thanks to Victorino.
Veras came on and started Victorino with two strikes. But his 0-2 pitch was a hanging curveball and Victorino turned on it and got just enough of it to clear the 37-foot wall.
That was the ultimate way to break out of a slump.
"I wanted to run around with him I was so excited," said second baseman Dustin Pedroia, who was in the on-deck circle. "I had a great view. It was just a great swing. He's got a great curveball. For Vic to stay back like that and drive it, it was unbelievable."
Sox starter Clay Buchholz and Scherzer provided this series with yet another compelling pitchers' duel early on.
The Red Sox finally broke through in the bottom of the fifth when Bogaerts hit a high drive off the Monster in left-center for a two-out double. Ellsbury followed with a line single to right, and Bogaerts scored easily from second for the first run of the game.
"If we can get a run or two the way their starting pitchers pitch, that's a plus," said catcher Jarrod Saltalamacchia.
Then the Tigers rallied as Buchholz opened the sixth by walking Torii Hunter. Miguel Cabrera followed with a single to left.
With 12 outs still remaining and a shutout in progress, Farrell went to his bullpen in a move reminiscent of Game 5.
This time, it didn't go quite as well. Lefty Franklin Morales came on and walked Prince Fielder on four pitches to load the bases. Victor Martinez followed and hit a two-run single high off the Monster to give Detroit the lead at 2-1.
That was all for Morales, as Farrell called on righty Brandon Workman. The rookie induced Jhonny Peralta into a grounder to second, in which Pedroia showed his savvy and skill in one rapid-fire play that, in hindsight, helped save the game for the Red Sox.
Pedroia swiftly tagged Martinez and then fired home, where Fielder was caught in a rundown between home and third base.
"Honestly, I was playing halfway. Jhonny Peralta never really hits the ball that way," said Pedroia. "It kind of worked out. I got the opportunity to get it. I got in position where I could freeze Prince at third. Once I did that, Victor was right next to me. I didn't want that run to score. I wasn't looking at turning two. I was looking at preventing that run. We lucked out and turned two."
Saltalamacchia chased Fielder all the way back to the third-base bag and applied the tag as Fielder tumbled. Workman continued his impressive performance by striking out Alex Avila looking to end the inning.
The Tigers nearly struck again in the seventh, but they made another gaffe on the bases. After drilling a one-out single, Austin Jackson was picked off first by Workman. Iglesias restarted the rally with an infield hit. Hunter dropped down a surprise two-out bunt, and Workman bobbled it for an error. Farrell went to Junichi Tazawa, who has had his way with Cabrera in this series. The matchup worked again, this time thanks to Drew, who made a diving stop on a grounder up the middle and easily threw Cabrera out at first to keep it a 2-1 game.
"It's huge," said Drew. "You don't know what that inning could have been. I was just thankful I was in the right mindset to position myself well to get that ball. It was a tough play. I'm glad I could come through right there."
Per usual, Tigers manager Jim Leyland -- who guided his team to the World Series last year -- was classy in defeat.
"Well, both teams played good all series," Leyland said. "We had a couple of blunders tonight, but it was a tough series. I want to congratulate the Boston Red Sox, John Farrell, Ben Cherington, the players. They deserve to win, they beat us and I wish them the best. They played very well and there were a lot of good games."
Game 6 was yet another one.
Through the first four innings, the only hit Scherzer allowed was Pedroia's single in the first. Pedroia nearly brought the house down in the third when his drive to deep left curled just foul, instead of being a three-run homer. He wound up grounding into a double play to end the inning.
But the persistent Red Sox would finally do enough against the ace to knock him out, and then they delivered the knockout punch against Detroit's bullpen.
"There is something special about this team," Victorino said. "We have one mindset. Just like the [Bob Marley] song says, 'Every little thing is gonna be all right.' We still have one more step. We proved everyone wrong and have one more step to go."
Ian Browne is a reporter for MLB.com. Read his blog, Brownie Points, and follow him on Twitter @IanMBrowne. This story was not subject to the approval of Major League Baseball or its clubs.