Gomes settling in as primary left fielder in playoffs
Gomes settling in as primary left fielder in playoffs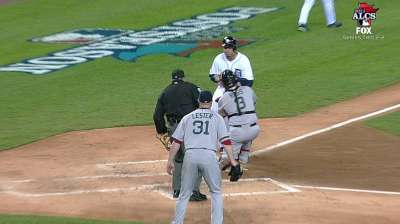 BOSTON -- For a while, Jonny Gomes and Daniel Nava had been rotating in left field during the postseason. At this point, the position seems to be swinging in favor of the right-handed-hitting Gomes, who again got the nod in Game 6 against Tigers ace Max Scherzer.
Nava (1-for-9) and Gomes (2-for-9) haven't had much success in their career against the right-hander, but there is one stat that manager John Farrell isn't treating as a fluke: The Red Sox entered Saturday's game 5-0 in this postseason when Gomes is in the starting lineup.
That doesn't mean Farrell has lost any respect for Nava, who was a key part of what the Red Sox did during the regular season.
"It's been very difficult, because he's a good hitter," Farrell said. "He's been an important part of this team throughout the course of the year, and we're also at a time of the year where I mentioned the environment is different -- and that's not to say that he doesn't perform in this environment."
Not to minimize what Gomes did in the regular season, but his gritty personality seems to have been made for October baseball.
"It's just that we have a different feel and a different personality on the field when Jonny is in the lineup," Farrell said. "Call that a hunch, call it whatever you might. That's what it boils down to, and it's not easy to leave that left-handed bat out of the lineup."
While Farrell studies the statistical breakdowns as much as anyone, he admits they might not carry as much weight this time of year.
"I think at this point in time gut feel comes into it a little bit more than numbers will tell you on a stat sheet or a given category," Farrell said. "So the way players respond under these circumstances in this environment has got equal weight, if not more, than maybe what the numbers might indicate or drive you to make a decision over the course of a regular season game or over 162. This is a different environment.
"And I think that's why we've got to remain in tune with how guys are responding in those key moments, pressure packed moments."
Ian Browne is a reporter for MLB.com. Read his blog, Brownie Points, and follow him on Twitter @IanMBrowne. This story was not subject to the approval of Major League Baseball or its clubs.