Leyland: 'It's really a shame' Miggy is hurt
Leyland: 'It's really a shame' Miggy is hurt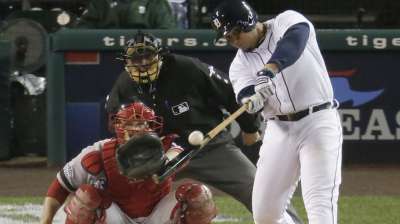 BOSTON -- Miguel Cabrera won't talk about his injuries. He isn't answering any questions about it and will hardly even acknowledge the topic if brought up in a media scrum. Clearly, though, baseball's greatest hitter is navigating through baseball's grandest stage at nowhere close to 100-percent healthy.
And when that's the case, everybody loses.
"It's really a shame, to be honest with you, for the whole baseball world, because they're not getting a chance to see him at his best," Tigers manager Jim Leyland said prior to Game 6 of the American League Championship Series from Fenway Park on Saturday. "This time of year, people are turning on the T.V., they love to see these guys. Obviously I think he's the best player in the league. To not be able to see him at his best because of a physical ailment, it hurts a little bit, but that's just the way it is, and you live with those things."
Cabrera basically played on one leg for the final three months of the regular season, bothered by a hip flexor starting in late June and abdominals in late August. Still, he managed to become the first right-handed hitter since Rogers Hornsby to win three straight batting titles (with a .348 average), tied his homer total from last year's Triple Crown season (44) in 13 fewer games, posted a career-high OPS (1.078) and made himself the favorite for a second straight AL MVP Award nod.
Cabrera has posted a .263/.317/.421 slash line in these playoffs, adding a couple of homers -- including the big one in Game 5 of the AL Division Series -- and seven RBIs. But he's been noticeably hobbled, a weaker base making it difficult to catch up to the fastballs he typically mashes.
"It kind of breaks your heart, to be honest with you, to see him out there the way he has to be out there and the way he is right now, because you know he's hurting," Leyland said. "He's tough as nails. I have so much respect for him. Everybody is conscientious these days about people earning their money. You talk about somebody who is earning their money; this guy feels like he owes it to the Detroit Tigers and our fans to be out there, he owes it to the team."
Jason Beck is a reporter for MLB.com. Read Beck's Blog and follow him on Twitter @beckjason. Alden Gonzalez is a reporter for MLB.com. Read his blog, Gonzo and "The Show", and follow him on Twitter @Alden_Gonzalez. This story was not subject to the approval of Major League Baseball or its clubs.