Peavy ready, waiting in bullpen if needed
Peavy ready, waiting in bullpen if needed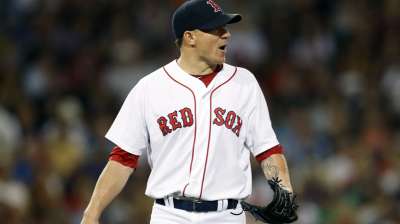 BOSTON -- After being handed an early knockout in a Game 4 loss, Jake Peavy will be ready to help the Red Sox out of the bullpen for the rest of the American League Championship Series.
Peavy has pitched in relief just once in his career -- in 2011 for the White Sox.
"I did it once before in Chicago and had some success. I'm hoping the situation plays out to where I'm not needed," Peavy said, "but I'll certainly be ready to go. There certainly aren't many more people anxious to get out there than I am. I'm excited if it comes to that, to get out there and help any way I can."
Though it's sometimes hard for veteran starters to transition to relief, manager John Farrell thinks Peavy can make the adjustment, due in large part to what he saw out of him in a two-inning stint in a simulated game before the postseason.
"I'm comfortable to do it, because I know it was only a sim game, but there was a little something there that stood out in the two-inning sim game that he threw prior to the start of this series," Farrell said. "And he knows this as well: I'd go to other guys that we've been going to, particularly in key spots, before we call upon him coming out of the bullpen."
And Peavy said that warming up is not an issue.
"Warming up, it doesn't concern me at all just because of how easy I can get loose," Peavy said. "I'm very blessed with that. It doesn't take me very long to be warmed up, so I don't think that will be a problem at all."
Ian Browne is a reporter for MLB.com. Read his blog, Brownie Points, and follow him on Twitter @IanMBrowne. This story was not subject to the approval of Major League Baseball or its clubs.