Card trick: Rout sends St. Louis to World Series
Card trick: Rout sends St. Louis to World Series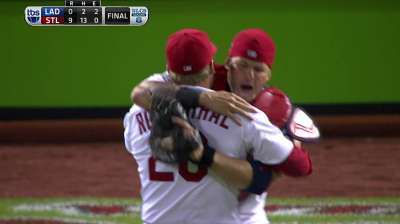 ST. LOUIS -- After Michael Wacha had stepped on stage to accept his National League Championship Series MVP Award trophy and manager Mike Matheny had twirled to show off some NL hardware, after Carlos Martinez ran around the outfield waving a large Cardinals flag and Adam Wainwright elicited cheers by holding a celebratory newspaper with the headline "NL Champs," after families had been found and everyone had streamed into the clubhouse, the moment found Carlos Beltran.
Beltran's 16-year career has taken him to many a place, though now, for the first time, those destinations include the World Series. Before the champagne was sprayed, Beltran thanked his teammates for helping him achieve what had been so elusive. He followed that with a rally cry -- "Let's get it done" -- after which the party was a go.
The celebration actually began much earlier at Busch Stadium, where the sellout crowd of 46,899 watched the Cardinals chase Dodgers ace Clayton Kershaw from a start earlier than any other opponent had all season. With a huge lead in the able hands of Wacha, the Cards closed what had been a closely contested series with a 9-0 victory in Game 6.
Indeed, an NLCS headlined by dominant pitching concluded with a rout on Friday night. And perhaps as surprising as the Cardinals' mostly silent bats have been this postseason was the fact that they secured their spot in the World Series by breaking out against one of the best.
"There was a very, very good sense of urgency today," said Matt Carpenter, who keyed St. Louis' four-run third with an 11-pitch at-bat. "Guys came into the clubhouse today and you could just kind of sense that we were ready to go. The intensity and the energy from everybody involved today -- from the first pitch to the last pitch -- was unbelievable."
This would be no repeat of 2012, when the Cards let a 3-1 NLCS lead over the Giants slip through their grips. Instead, they left the home clubhouse coated with champagne for the third time in three weeks, one more checkmark on their quest to capture the franchise's 12th World Series championship.
The Cardinals' tally of NL pennants climbs to 19, tying them with the Giants for most by any NL club in the World Series era.
"Every journey has different elements to it," general manager John Mozeliak said. "I think the thing that you take a lot of pride in is that we were able to overcome adversity. But having said that, there is still another step. Obviously, it's everybody's goal to win your division and to keep advancing in the postseason. This is a very special moment tonight, and everyone should enjoy it, but there is more baseball to be played."
World Series participants for the fourth time in the past 10 years, the Cardinals now merely await an opponent. The Fall Classic will open Wednesday (6:30 p.m. CT on FOX) in either Boston or Detroit, where St. Louis ace Adam Wainwright will be ready to take the ball. The Red Sox carry a 3-2 American League Championship Series advantage over the Tigers into their Game 6 on Saturday night at Fenway Park.
"I think it's very easy to look at this organization and be jealous at times," David Freese said. "It's a very special thing to put this uniform on. You don't make the playoffs every year, but to have an opportunity, I believe, year in and year out, that says something. What the front office does and what the 'Cardinal Way' is, I think that explains a lot."
What the front office did in 2013 was find an optimal mix of veteran talent and youth infusion. A club built mostly within the Cards' farm system used a Major League-most 20 rookies, as it overcame injuries to key players like Chris Carpenter, Rafael Furcal, Jason Motte, Jaime Garcia and Allen Craig.
Fitting, then, that it would be a trio of rookies who combined to pitch a shutout in Friday's clincher. Wacha led the group with seven dominant innings to extend his sensational October run. After it was over, he was named the NLCS MVP.
"Since he joined the ballclub, all he has done is given us an opportunity to win ballgames," Beltran said of the rookie hurler. "You guys are going to hear a lot from that kid, because that kid is very special. He wants to be there. He loves the moment. It's great to watch a young kid be able to come through like that."
About an hour after Scott Van Slyke and Joe Kelly engaged in a playful stare down to open the night, the Dodgers blinked first in what many predicted would be the second Kershaw-Wacha pitching duel of the series. That blink initiated an unraveling.
The Redbirds seized control during a 48-pitch third inning that showcased the qualities that have come to define this offensive unit all season. It began with Carpenter grinding out an 11-pitch at-bat that ultimately resulted in a one-out double. The hit, one of 13 the Cardinals had, would jump-start a four-run inning in which St. Louis sent 10 batters to the plate.
"I've taken pride all season in being a guy who works counts and has those kinds of at-bats, and so far in the postseason, I really hadn't hit my stride in terms of the way I have been at the plate," Carpenter said. "In my career, that's going to be one of my more memorable at-bats."
Beltran drove home the game's first run with a single to right. He'd finish the evening with a three-hit game and a highlight-reel diving catch in right-center field.
Kershaw was peppered with two-out hits as the third inning continued. Yadier Molina collected his first NLCS RBI. A single by Freese and a walk to Matt Adams brought the inning to Shane Robinson, who, given his first start of the postseason, made Matheny look brilliant.
Robinson's two-run single -- one of two hits he had off Kershaw -- pushed the Cardinals' lead to four. That equaled the total number of runs the Dodgers' ace had served up in his last five starts combined. The Cards became the first team since 2009 to bat around against Kershaw, who lost all four of his starts against St. Louis this year.
"It's kind of fitting how it worked out like that," said Craig, who expects to be healthy enough to join the World Series roster. "Matt had the at-bat of the season -- against Kershaw, a lefty that's a tough matchup. From there, we got base hits and took good at-bats. That's what we've been doing all year."
No other club had near that success against a pitcher who is expected to be named the NL's Cy Young Award winner next month.
"I just didn't pitch good," a terse Kershaw said afterward. "I don't have an answer. I just wasn't good enough."
Though Wacha needed none of the extra support, the Cardinals batted around again in the fifth. Three consecutive hits to open the frame sent Kershaw to the dugout. The Cards' lead was nine by the end of the inning; this from a team that had scored just 12 runs and batted .178 through the first five games of the NLCS.
The Cardinals, who hit .330 with runners in scoring position during the regular season, went 6-for-14 in such spots on Friday.
"When you face quality pitchers like the Dodgers have, it's going to be tough," hitting coach John Mabry said. "Runs are going to be hard to come by. But these guys just kept on doing what they do. They believed in each other and kept working on it."
As the Cards knocked around the Dodgers' pitching staff, Wacha again stood tall in what continues to be a special October for the 22-year-old rookie. Less than two years removed from pitching at Texas A&M University, Wacha's encore performance against Los Angeles was better than his first.
Wacha shut out the Dodgers for 6 2/3 innings in Game 2 of the NLCS. On Friday, he did so for seven innings. In the two starts combined, Los Angeles mustered just seven hits and two walks off the right-hander, who struck out 13. The NL West champs advanced only one runner into scoring position against Wacha, who responded to that adversity by not allowing any of the next three batters to push a ball out of the infield.
"These past four games, I just try to come up to the park every day, get my work in and try to approach every game just the same," said Wacha, who has allowed one earned run on nine hits in his last 29 2/3 innings. "I just try to not let the moment get too big on [me]."
From one rookie, Matheny turned to two others to secure his first NL pennant as a manager. Martinez struck out two in a 1-2-3 eighth. Trevor Rosenthal preserved the shutout and threw the final pitch of the night.
"I think we've been fortunate to be in an organization that winning is a tradition, winning is an expectation," Matheny said. "We start talking early on about the history and the championships, the great players who have been through here and people who have made their mark on this organization and in the game. ... These guys have been training themselves, I think, in the expectation that we need to put together a season that's representative of what this club stands for."
Jenifer Langosch is a reporter for MLB.com. Read her blog, By Gosh, It's Langosch, and follow her on Twitter @LangoschMLB. This story was not subject to the approval of Major League Baseball or its clubs.