NLCS umpiring crew not pleased with Puig
NLCS umpiring crew not pleased with Puig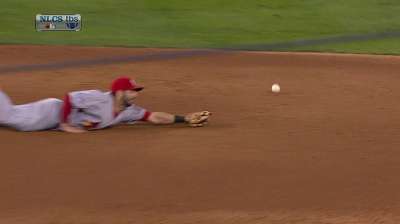 ST. LOUIS -- Why were Dodgers president Stan Kasten and MLB executive Joe Torre in a heated conversation during batting practice before Game 6 of the National League Championship Series?
It probably has something to do with Dodgers right fielder Yasiel Puig and umpires, according to a baseball source.
Puig has enraged the crew, which believes he is showing up umpires at home plate. It nearly came to a head in Game 5 when Puig was called out on strikes by plate umpire Ted Barrett and stood in the batter's box, left hand on hip, staring at Barrett. Earlier in the at-bat, Puig said something to Barrett, who came out from behind the plate, brushed off the plate and apparently said something to Puig.
Earlier in that game, Barrett called out Hanley Ramirez on a third strike and Ramirez shook his head repeatedly and had some words with Barrett as he walked away. In a regular-season game, Puig might have been ejected. Before each postseason series, however, umpires meet with managers and general managers and explain that, because of the importance of the series, umpires will exercise restraint on ejections, as long as uniform personnel don't take advantage of their patience.
Apparently, this crew, which Torre oversees, feels that Puig has crossed the line. It's not known if Puig has been fined, but apparently word was sent from MLB offices to the Dodgers' clubhouse that disrespecting the umpires with displays at home plate won't be tolerated, especially by Puig.
So, is that what Kasten and Torre were arguing about?
"Just some friendly conversation," said Torre.
"Joe and I were chatting," said Kasten.
Puig's only ejection this year was by umpire Clint Fagan for his part in the June 11 brawl with Arizona.
Ken Gurnick and Lyle Spencer are reporters for MLB.com. This story was not subject to the approval of Major League Baseball or its clubs.