No Hollywood ending for Kershaw, Dodgers
No Hollywood ending for Kershaw, Dodgers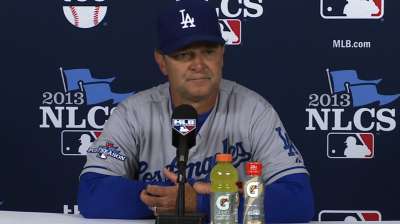 ST. LOUIS -- For all of the confident words spoken by the Dodgers coming into the National League Championship Series, the last team they wanted to face in the playoffs was the St. Louis Cardinals, and this was why.
Clayton Kershaw hasn't beaten the Cardinals in four starts this year, and if Kershaw can't beat a team in a best-of-seven series, neither can the Dodgers. Their wild season ended in Game 6 Friday night with a staggering 9-0 blowout loss, as the Dodgers were unable to plate a run in both of Kershaw's NLCS starts. It was the third time in the last six years the Dodgers have lost the NLCS, extending the franchise drought of missing the World Series to a quarter century.
"Shell-shocked, that's a great word to describe it," said catcher A.J. Ellis, whose double was one of only two Dodgers hits.
Manager Don Mattingly likened it to a crash, where "everything you do comes to a screeching halt all of a sudden."
A marathon four-run third inning, requiring an onerous 48 pitches, doomed Kershaw and his team, which had battled back after losing the first two games here by winning two of three in Los Angeles, but needed this win to force a winner-take-all Game 7.
Adrian Gonzalez said it would be wrong to dump the blame on the team's best pitcher.
"It's more about our offense not doing anything than him," he said
For the second time in this series, St. Louis rookie Michael Wacha pitched like a Cy Young Award winner. He added to 5 2/3 scoreless innings from his Game 1 win over Kershaw with a two-hit shutout for seven innings in the rematch and was presented the NLCS MVP Award.
"I felt we were in a great place, the way it lined up [with Kershaw and Hyun-Jin Ryu starting] and facing Wacha for the second time," said Ellis. "Give him credit. He's the real deal. He shut us down both times. Things just kind of spun out of control in that third inning, had some pitches go against us that could have been called strikes and got us out of the inning earlier, but you know, it still didn't matter. We still didn't score any runs."
The late addition of Hanley Ramirez to the starting lineup didn't matter either, as the Dodgers' offense was shut out for the second time in the series and had only one hit through the first five innings. Ramirez, not in the original starting lineup, but added a half-hour before game time, went 0-for-3 and would not speak with the media afterward.
Both teams hit a meager .211 in the series. Ramirez hit .133 (2-for-15), Andre Ethier and his microfractured leg hit .150. Yasiel Puig sank to .227 (5-for-22 with 10 strikeouts). Juan Uribe hit .130 (3-for-23). On the plus side, Ellis hit .316 and Gonzalez hit .300, each with four extra-base hits.
Kershaw was driven from the biggest game of his career with no outs in the fifth inning, his shortest start of the year, ultimately charged with seven earned runs on 10 hits after throwing 98 pitches. It was the first time since 2010 that he allowed at least seven runs and lasted four innings or fewer.
He was pitching on five days' rest after a tough-luck Game 2 loss, when he allowed two hits and one unearned run in six innings.
"I just didn't have it tonight," said Kershaw. "Give up that many runs and you're not going to win a game. It's all on me. I'm disappointed. I feel like everybody worked so hard to get here, a great group of guys, and I wanted to win it for them. I wanted to get guys there, especially guys like Michael Young, somebody like that who has played his whole career without winning a World Series. That's the toughest pill to swallow."
Kershaw said he felt fine before, during and after the game. He said he wasn't tired from the 48-pitch inning. He wouldn't talk about plate umpire Greg Gibson's strike zone, especially on a critical 3-2 pitch to Matt Adams for a walk, although the Dodgers felt Wacha got the better of it. When it was suggested that his between-starts routine was disrupted by indecision whether he would pitch Game 5 on three days' rest, he wouldn't go there.
"Thanks for trying to find excuses, guys," he said. "I just didn't pitch well."
The four runs were more than he gave up in any inning since July 2012. And he didn't get much help behind him on defense, especially from rookie right fielder Puig, who was charged with two errors and made a senseless throw that compounded the third-inning implosion.
Kershaw wasn't in the mood to take anything positive from a season in which he'll probably win his second NL Cy Young Award.
"If you don't win, what's the point?" he said. "All the other stuff doesn't matter. There were some good moments, a good streak, but unless you win the whole thing, it doesn't make any difference."
Maybe Kershaw was out of sorts from having his throwing routine disrupted, not knowing if he would be brought back to pitch Game 5 on short rest. Maybe 259 innings took their toll. Or maybe the Cardinals were destined to win.
It seemed that way since the 95-mph fastball that Cardinals starter Joe Kelly drilled into the ribs of Ramirez in the first inning of Game 1, which had a greater impact on the series than any of Wacha's pitches Friday night. Ramirez's rib suffered a hairline fracture and the Dodgers' offense never recovered.
The underlying theme of a season that saw the Dodgers go from last to first was overcoming injuries, but they couldn't overcome Ramirez's.
This was the second time the Dodgers were eliminated by the Cardinals in the sixth game of the NLCS, Jack Clark doing the honors to Tom Niedenfuer in 1985. That one had the second-guessing of Tommy Lasorda's decision to pitch to Clark with first base open. This one had the second-guessing of Mattingly pinch-running for Gonzalez in a Game 1 loss that went 13 innings.
Kershaw had to pitch out of a first-inning jam after allowing a one-out double to Carlos Beltran, but he struck out Matt Holliday and got Yadier Molina on a groundout.
With two outs in the second inning, Shane Robinson singled to left, and on back-to-back wild breaking pitches to Pete Kozma, Robinson reached third. But Kozma, 1-for-13 coming into the game, struck out on a 3-2 fastball at his shoulders.
Matt Carpenter put Kershaw through the ringer with one out in the bottom of the third, an 11-pitch at-bat that included eight foul balls and finished with a double to right field.
"A game-changer right there," said Ellis.
"From there," said Mattingly, "it seemed like the floodgates opened."
Beltran then hit a shot that deflected off the glove of diving second baseman Mark Ellis. That brought in the first run, but it also set up the second. Instead of setting and throwing, Puig made an off-balance flip toward the infield instead of planting and unleashing a bullet to the cutoff man. Carpenter scored, but the throw allowed Beltran to advance to second base because Gonzalez couldn't catch Puig's throw.
"We've got to do a better job, I think, of helping him mature and understand what we want done and the way to do it," Mattingly said of the throw, which did not keep the double play in order.
Holliday was called out on strikes for the second out, but Molina singled to center to score Beltran.
"We just couldn't get out of it," said A.J. Ellis. "It was really hard to find that put-away pitch to end that inning."
David Freese singled Molina to second and Kershaw walked Adams to load the bases, the 3-2 pitch close enough for Kershaw to say something to Gibson.
Robinson singled to right and Puig airmailed the throw to the backstop, with Molina and Freese scoring, Adams going to third and Robinson to second on the throwing error. Kozma was walked intentionally to load the bases and bring up Wacha, who led off the inning with a groundout and finished it with a strikeout.
Kershaw was chased in the fifth after allowing singles to Molina and Freese and an RBI double by Adams. With Ronald Belisario pitching, one out and the bases loaded, Ellis bobbled Wacha's grounder and another run scored. Carpenter brought Robinson home with a sacrifice fly off J.P. Howell, whose wild pitch then scored Kozma, and Beltran singled home Wacha for the fifth run of the inning.
Ken Gurnick is a reporter for MLB.com. This story was not subject to the approval of Major League Baseball or its clubs.