Farrell sticking with slumping Drew at shortstop
Farrell sticking with slumping Drew at shortstop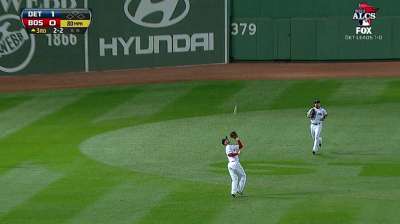 BOSTON -- Choosing glove over bat at a premium defensive position, manager John Farrell will continue to go with Stephen Drew at shortstop when the American League Championship Series continues on Saturday at 8 p.m. ET on FOX.
Drew has gone 3-for-32 with 10 strikeouts during the postseason, but he's made key plays at short while providing consistent defense up the middle, something Farrell doesn't want to lose.
"There's been a lot [of people] calling for Stephen's head, seemingly, but he's a very good player," Farrell said. "And in these games, defense is at a premium. And when a defensive play hasn't been made and you give a team an extra out, as good as these two teams are, you're likely going to pay for that."
The only other shortstop option on the 25-man roster, Xander Bogaerts, will get the nod at third base instead of Will Middlebrooks for Game 6.
"I'm not saying that we don't have good defenders otherwise," Farrell said, "but Stephen has taken good swings. We all recognize the struggles that are there. But he shores up the middle of our infield so well; I'm certainly going to preserve that. And yes, Stephen will be in the lineup tomorrow."
Enduring and eventually coming out of slumps is nothing new for Drew. Although he's yet to collect a multihit game while taking at least two at-bats in each of Boston's nine postseason games, he went through similar stretches of at least nine games 12 other times in his career, including three this season. He responded with big streaks in the other direction all three times in 2013.
After hitting .154 in April, he started May by hitting .400 in his first eight games; he hit .370 with six extra-base hits in a seven-game stretch following a rough patch from June 8-19; and following an 11-game stretch from Aug. 20 to Sept. 3 in which he hit .229, he had a big game against the Tigers and went on to hit .292 with an .868 OPS over his final 19 games.
So as long as he continues to play well at shortstop, it appears Farrell will reward him with the chance to break out of a slump yet again.
"It's just baseball. It's a crazy game, it really is," Drew said. "The good thing is, we're winning. That's what matters. Hopefully, I'll come out of this pretty soon and we're still winning games."
Drew compared his play with that of Mike Napoli, who was 2-for-17 with eight strikeouts before hitting a home run in Game 3 and then again in Game 5.
"And it's crazy, because Nap just came out of it," Drew said. "Everyone's like, 'Oh, he's striking out.' We're like, 'Dude, who cares? He's going to come out of it sooner than later.' Look what he's done the last few games for us. It's one of those things that you finally find something that clicks and stick with that."
Ian Browne and Jason Mastrodonato are reporters for MLB.com. This story was not subject to the approval of Major League Baseball or its clubs.