Sox know that Cabrera, though hurt, still dangerous
Sox know that Cabrera, though hurt, still dangerous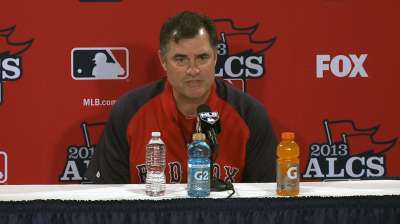 BOSTON -- Jarrod Saltalamacchia put in words what everyone else has noticed about Tigers third baseman Miguel Cabrera, an American League MVP candidate who has been hindered by injuries.
"There is definitely a difference," Saltalamacchia said.
Cabrera hit .421 off the Red Sox during the regular season, but he's hitting just .278 during the AL Championship Series.
"You can see it in the way he plays and the way he drives the ball," Saltalamacchia said. "He's a guy who can drive it out anywhere in the ballpark, so when you see him flying out to the warning track in right or not getting to that fastball, you know there's something there.
"But you never take that for granted. He's still a dangerous hitter at any point, and you have to treat him as that. That's why we've been able to keep him tamed a little bit."
The last two times Cabrera was up late in a game the Red Sox were leading, manager John Farrell used Junichi Tazawa.
Tazawa has thrown six pitches to Cabrera, all fastballs. The results? Swinging strikeout. Double play.
"When we've been hurt by Cabrera, it's probably been some offspeed pitches that haven't gotten to the spot," Farrell said. "You're almost looking for ways to minimize the damage against such a great hitter as him. And typically, that could be a well-located fastball.
"And that's just [Tazawa's] strength. Given the guys that we have available in the bullpen, we felt like it was the best matchup. It wasn't like it was targeted going in."
Although Tazawa's tailing fastball has been the answer so far, there's no guarantee that will continue to be the case, and the Red Sox plan to switch their approach with each of Cabrera's at-bats.
As catcher David Ross warned, "I'm taking it lightly that Miguel Cabrera is supposedly injured. He's a really good player, [but] his 70 [percent] is better than my 100."
Ian Browne and Jason Mastrodonato are reporters for MLB.com. This story was not subject to the approval of Major League Baseball or its clubs.