Closing in: Sox one win away from trip to World Series
Closing in: Sox one win away from trip to World Series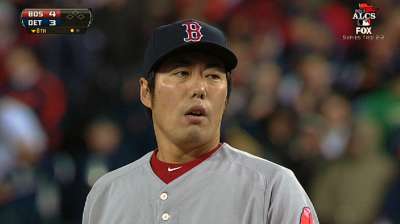 DETROIT -- There were 11 outs to go in Game 5 of the American League Championship Series on Thursday and Red Sox manager John Farrell asked his bullpen to take it home.
It seemed like a lot to ask, but Junichi Tazawa, Craig Breslow and Koji Uehara did exactly what was needed, putting the finishing touches on a tight 4-3 victory over the Tigers that has Boston just one win away from reaching the World Series.
Uehara, the indomitable closer, did the heaviest lifting, recording his first five-out save since Sept. 20.
"Maybe it's the same five outs numbers-wise, but it was completely different because it was the playoffs," said Uehara.
Though the ninth inning is currently his domain, Uehara knows that he can be called in to work earlier this time of year.
"Yeah, I mean, that's definitely a big load for any closer," said left fielder Jonny Gomes. "That being said, I don't think anyone is surprised. A five-out save in 27 pitches? That's pretty impressive there, too. He's our stopper. We've got more confidence in that guy than anyone."
But Farrell had just as much confidence in his two setup men, which is why he felt comfortable pulling ace Jon Lester with one out in the sixth.
"Not hard at all," Farrell said. "We've got full confidence not only in Jon, but the guys who have come out of the bullpen."
With a 3-2 lead in this thrilling best-of-seven series, Boston will have two chances to finish off the Tigers, beginning with Game 6 at Fenway Park on Saturday, which is scheduled for 4:30 p.m. ET on FOX, but if the National League Championship Series ends Friday night, Game 6 will be at 8 p.m. ET.
There have been four one-run games in the series, which already matches the ALCS record, set by the Orioles and Indians in 1997.
"I just think that's playoffs," said Gomes. "Especially the Sox and Tigers. That's about as even as it gets right there."
Relying more on grit than overpowering stuff, Lester gave the Red Sox 5 1/3 innings, scattering seven hits and two runs. He walked three and struck out three, throwing 98 pitches.
"Obviously our job is to start the game and try to finish the game. That's our ultimate goal every night that we take the ball," said Lester, "but in that situation, that's John's decision. I may not like it, but that's his job, and that's why I respect every decision he makes."
This one was very much a team effort. Before the decision-making of Farrell and the execution of the relievers took center stage, the offense provided a boost.
Mike Napoli provided a 460-foot missile to center for a solo shot in the second that started a three-run rally.
"I've never seen a ball hit that hard -- ever," said designated hitter David Ortiz. "That ball was crushed, especially since it was rainy and cold. It was unbelievable."
But after scoring another run in the third, the bats went quiet, and the Sox relied on their pitching and defense, which turned three crucial double plays.
Austin Jackson started a Detroit rally in the fifth with a single up the middle. Jose Iglesias went for the sacrifice bunt, and after initially bobbling it, Lester shoveled the throw to first, just in time. Miguel Cabrera ripped a single into the gap in left-center and Jackson scored, making it a 4-1 game.
Despite the results, Lester seemed like he was on a tightrope for most of the night. He walked Victor Martinez to open the sixth and then gave up a one-out single up the middle to Omar Infante. That was Lester's last pitch of the night, as Farrell called on Tazawa.
Brayan Pena hit Tazawa's first pitch into center for an RBI single to make it 4-2. But the righty reliever bounced back quickly, as Jackson hit into a 5-4-3 double play to end the inning.
Finally, it seemed, Detroit was going to tie it or go ahead in the seventh. After Iglesias and Torii Hunter led off with singles, Tazawa made a huge pitch, inducing the dangerous Cabrera into a 4-3 double play, on which Iglesias scored to make it a one-run game.
"I knew that the outside fastball was a good pitch for me the last time out," Tazawa. "I wasn't quite sure if that was the case this time, but he did swing at it and we got a big double play."
Lefty Breslow got Prince Fielder on an inning-ending groundout.
There was drama early on in this one. With two on and two outs in the first, Lester appeared to be in a little bit of trouble when Jhonny Peralta smoked a single to left. But Cabrera rounded third and headed home, where he was easily thrown out by Gomes. Tigers third-base coach Tom Brookens initially waved Cabrera home but then put up the stop sign, apparently too late.
"It was just a matter of getting a tight grip," said Gomes. "When you have a quick transfer, you have to grab all four seams when the ball is wet. I just squeezed the heck out of it and threw it as hard as I could."
Just like that, the momentum swung. Napoli's second crucial homer in three games went into the shrubbery in dead center field, giving Boston a 1-0 lead.
The only person in Comerica Park who didn't seem impressed with how far the ball went was, well, Napoli.
"It really doesn't matter to me," Napoli said. "It can go in the first row for all I care. But, yeah, I was in a hitter's count. I was looking for a fastball, and I got a pitch I could handle."
That gave the Red Sox an early indication that they weren't facing the same Anibal Sanchez who no-hit them over his six innings in Game 1.
Gomes followed with a grounder to third that Cabrera muffed for an error. With one out, Xander Bogaerts -- making his first postseason start -- ripped a double down the line in left. David Ross followed with an RBI double off the wall in left. Jacoby Ellsbury's infield single off the glove of Sanchez gave Lester a 3-0 cushion.
Napoli again got things started in the third, this time with a one-out ground-rule double to left. Napoli moved to third on a fielder's choice. And on a wild pitch that went to the third-base side of the plate, Napoli, who got a great jump from third, scored.
"We get better as we see guys usually," Ross said. "I think we had a good plan going in. Nap -- that was huge to get us on the board. Dustin [Pedroia], again, to get that knock in the first inning -- that's always good against these good pitching staffs to get some hits early. And then Nap put us on the board; was huge. Then we capitalized on those mistakes."
The Tigers seemed to have something going in the fourth when Martinez led off with a single and Infante drew a one-out walk. But Pena, who was pinch-hitting for the injured Alex Avila, hit one back to the box. Lester's throw to short was slightly off the mark, but Stephen Drew did a nice job grabbing it and keeping his foot on the bag. Drew fired to first, where Napoli scooped it for an inning-ending double play.
"Looking back, it's a huge out," said Drew. "It was just one of those plays that worked out, with Nap picking the ball. I had no legs when I was tagging the bag, having to throw the ball with just my upper-body and didn't have any strength behind the ball. Fortunately Nap made a good pick for us."
Now, it's back to Boston, where the Red Sox will try to finish off a worthy opponent.
"This series has been unbelievable right now," said Ortiz. "We'll go to the house now. We know we've got to come back on Saturday and get one more."
Ian Browne is a reporter for MLB.com. Read his blog, Brownie Points, and follow him on Twitter @IanMBrowne. This story was not subject to the approval of Major League Baseball or its clubs.