Red Sox not sweating the strikeouts
Red Sox not sweating the strikeouts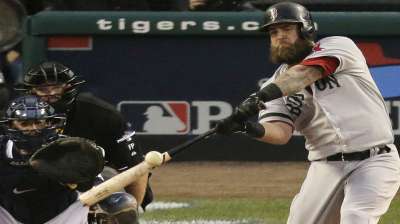 DETROIT -- When it comes to the matter of striking out, the Red Sox were bound to play into the hands of the Tigers a little in the American League Championship Series.
The Sox struck out 1,535 times in the regular season, the fourth highest in the AL. The Tigers' pitching staff set a Major League record with 1,428 K's.
Through five games of the ALCS, the Sox were hitting .186 with 53 strikeouts in 129 at-bats.
"These guys led the league -- they broke a record for strikeouts," said first baseman Mike Napoli. "I don't know. Yeah, we don't like to strike out. No one accepts striking out here. We try to put the ball in play and make something happen. It just happens sometimes."
Despite the strikeouts, manager John Farrell knows his team had the best offense in the AL during the season and he doesn't necessarily want his hitters to change their approach now.
"Well, I think if you look at the way we've performed over the course of the year, the fact that we see so many pitches that we're willing to go deep in the count, our guys are going to hit with two strikes on them a lot," said Farrell. "That's somewhat of a Catch 22. While running up a pitch count against an opposing pitcher, there's going to be a higher number of strikeouts. And the fact that we've had this number so far in this series, I can tell you this -- our guys in the dugout aren't fretting over it.
"And yet, we can't ask Mike Napoli to try to put a ball in play. If we do that with two strikes, we might still be playing Game 3 rather than him hitting the ball out of the ballpark."
Ian Browne is a reporter for MLB.com. Read his blog, Brownie Points, and follow him on Twitter @IanMBrowne. This story was not subject to the approval of Major League Baseball or its clubs.