Leyland makes small tweak to Game 5 lineup
Leyland makes small tweak to Game 5 lineup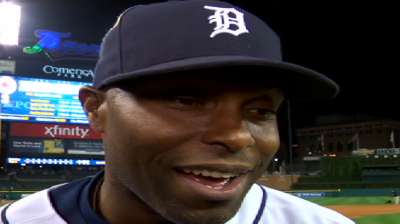 DETROIT -- Jim Leyland couldn't stop tinkering with his Tigers lineup. This time, however, the manager's tweak was small.
Omar Infante and Alex Avila flipped spots in the batting order for Game 5 of the American League Championship Series against the Red Sox on Thursday night, giving Leyland a right-handed hitter to place behind Jhonny Peralta in the lineup against Boston left-hander Jon Lester. Other than that, Leyland kept the unorthodox batting order from Game 4 that earned him kudos for shaking up his offense, even though he continues to downplay the significance.
"I don't think the lineup was a big factor at all," Leyland said. "I think that our mission was accomplished. [Austin] Jackson, by his own admission, said it relaxed him a little bit. That's what the mission of that lineup change was all about. So from that standpoint, it helped, but it still doesn't mean it had anything to do with Torii Hunter getting a big hit and knocking in two runs. The credit still goes to those players that produced.
"I don't want to make it sound like we won the game because I made out some fantastic lineup. I don't think that had anything to do with it. I think in one player's case, it relaxed him a little bit, and it helped us win a game."
The lineup could undergo at least another change for Game 6 Saturday at Fenway Park (4:30 p.m. ET on FOX, unless the National League Championship is over, in which case Game 6 will be at 8 p.m.), depending on what Leyland decides to do with Jose Iglesias. He started Peralta when Max Scherzer and Justin Verlander started Games 2 and 3.
Leyland said he hasn't made up his mind yet, but he's leaning towards starting Iglesias behind Scherzer on Saturday. The lack of production from Detroit's left fielders might well play a role in that.
Jason Beck is a reporter for MLB.com. Read Beck's Blog and follow him on Twitter @beckjason. Bobby Nightengale is an associate reporter for MLB.com. This story was not subject to the approval of Major League Baseball or its clubs.