Bullpen usage different in postseason play
Bullpen usage different in postseason play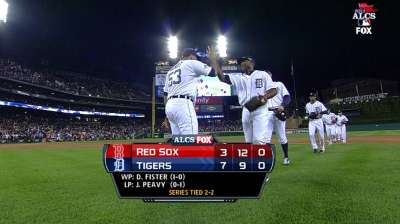 DETROIT -- The Tigers spent most of the regular season using their bullpen for specific innings. If a reliever entered the game to start the seventh, there's a good chance he'd get an opportunity to finish the inning if he retired his first and second batter.
Postseason bullpen usage is different, especially against a lineup that matches up well. The American League Championship Series has brought out a batter-for-batter matchup strategy from manager Jim Leyland, taking a page from his longtime friend Tony La Russa.
The inning it involves changes, but it usually involves the middle of the Red Sox order. Phil Coke, Al Alburquerque and Drew Smyly teamed up to handle the seventh inning in Game 4. Jose Veras, Coke and Alburquerque retired the same spots in the lineup in the ninth inning of Game 3.
The Game 2 mixing and matching, of course, drew plenty of attention once the Red Sox loaded the bases and emptied them on David Ortiz's grand slam off Joaquin Benoit, the fourth pitcher of the inning.
"When it's late in the game, every out is important," Coke said. "Your preparation doesn't change whether it's one guy or not. I mean, there was more than one time last postseason I was ready to get lifted and I stayed in."
That 2012 postseason, of course, was the time Coke became a closer for the ALCS against a lefty-heavy Yankees lineup.
Jason Beck is a reporter for MLB.com. Read Beck's Blog and follow him on Twitter @beckjason. Bobby Nightengale is an associate reporter for MLB.com. This story was not subject to the approval of Major League Baseball or its clubs.