Tigers knocked into a corner in quest for pennant
Tigers knocked into a corner in quest for pennant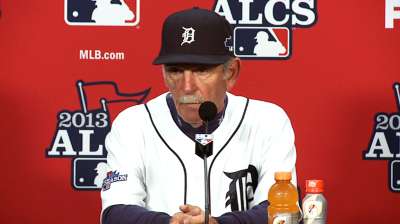 DETROIT -- The Tigers came within a disastrous eighth inning in Game 2 of taking two games in Boston to start this American League Championship Series. They're going to have to finish the job with two straight against the Red Sox at Fenway Park if they're going to get back to the World Series.
In an ALCS in which so many games have been decided by so little, they'll take their chances.
"If you had a tiger, and he was backed in a corner, he couldn't go left, he couldn't go right, he couldn't go behind him, what's he going to do? Fight through," Torii Hunter said after Thursday's 4-3 loss in Game 5 pushed Detroit to the brink of elimination. "That's what we're going to try to do. That's what Tigers do.
"Our back is against the wall. We can't go left, we can't go right. We're going to go right through it. I like being down 3-2."
History, of course, is leaning against them. In each the previous four instances that a best-of-seven ALCS has been tied at 2, the Game 5 winner has gone on to win the series. Three of the previous four times, the Game 5 winner wrapped up the series in six.
"We've got to feel positive. We've got to feel ready to play," said Miguel Cabrera. "We've got to feel ready to play. We've been here before."
In a series that has featured four one-run games in five contests, it's not that easy to predict. In a series this close, it's easier to lament.
"I think we've been a pretty good show for baseball, two unbelievable organizations, two great teams," said Jose Iglesias, whose running, lunging catch in short left field might have been the defensive highlight of the series. "We've been playing some good games. Sometimes we win, sometimes they win."
With Max Scherzer starting in Game 6 on Saturday (4:30 p.m. ET on FOX unless the National League Championship Series is over, in which case Game 6 starts at 8 p.m.) and potentially Justin Verlander in Game 7 on Sunday, the Tigers have to feel somewhat at ease. But as the Red Sox showed Thursday, a second look at even a nasty pitcher, Anibal Sanchez, can yield vastly different results in the postseason.
In this swing game, with a rally that fell just short, there was plenty to ponder.
The sight of Cabrera rounding third base past coach Tom Brookens' stop sign and into an out at home plate in the opening inning was one. It was a late change on Brookens' part, initially waving him around before switching just before Cabrera hit third base.
A healthy Cabrera, unencumbered by groin and abdominal issues, likely makes the stop.
"I was hoping he would see me and stop," Brookens said, "but Miggy sometimes, when you get him going, he just keeps going. And I think that's really what happened. I think he saw me waving initially, 'Come on, come on,' and then when I tried to stop him, it was too late."
One commercial break later, Tigers postseason nemesis Mike Napoli worked a 3-1 count, blasted a fastball over the plate and sent it to the right-field side of the center-field camera well.
Thus began the first early-inning rally from the Red Sox all series. By the time Sanchez recovered, a Cabrera error and three consecutive hits had plated two more runs for a 3-0 lead, and only an alert throw home from Omar Infante prevented a fourth.
The ensuing collision at the plate with David Ross left Alex Avila shaken. He stayed in the game but left after four innings with a strained patellar tendon in his left knee. By then, Napoli had doubled and scored on a Sanchez wild pitch for a 4-0 lead.
Once the Tigers rallied, that add-on run became the difference in the game, a pitch in the dirt that skipped past the injured Avila.
Sanchez lasted six innings for the second time this series, but he was far from hitless. The Tigers, whose offensive struggles left Sanchez with the thinnest of support in Game 3, nearly made up his deficit.
"Just one inning. Couple mistakes," Sanchez said.
Cabrera's fifth-inning RBI single put Detroit on the board, and replacement catcher Brayan Pena greeted Junichi Tazawa with another RBI single to make it 4-2 in the sixth. But double plays in the sixth and seventh kept the Tigers from picking up runs more than one at a time.
The offense forced Koji Uehara to enter for a five-out save, but he retired the five batters in order to salvage the win for Boston.
One more one-run game will tie the record for a League Championship Series, set at five by the Mets and Braves in the 1999 NLCS. A sixth would match the postseason record from the 1972 World Series between the A's and Reds.
The Tigers would take their chances with two more at Fenway.
"We have to win one game and then take it from there," manager Jim Leyland said. "We've got to win one game."
Jason Beck is a reporter for MLB.com. Read Beck's Blog and follow him on Twitter @beckjason. This story was not subject to the approval of Major League Baseball or its clubs.