Peavy's rough start, Sox's lack of offense even ALCS
Peavy's rough start, Sox's lack of offense even ALCS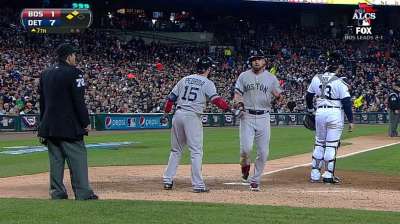 DETROIT -- The Red Sox had a chance to take command of the American League Championship Series on Wednesday night. Instead, they turned in their first clunker this postseason.
Unable to get what they needed out of starter Jake Peavy, the Sox also had a tough time coming up with timely hits.
It added up to a 7-3 defeat to the Tigers at Comerica Park that has evened this ALCS at 2-2, turning it into a best-of-three series from here.
"We're just as excited as every other day," said right fielder Shane Victorino. "The thing about it, this part of the season, this part of the game, this is why we're all here. This is why there's four teams here in this position. This is why these two teams are considered the two best teams in the AL."
With ace Jon Lester pitching in Thursday night's Game 5 (8 ET, FOX), the Red Sox will try to reclaim the lead before going back to Fenway for Game 6.
To do that, they'll have to find a way to score more. Through the first four games in this series, Boston has scored 10 runs -- four of which came on one grand slam by David Ortiz in Game 2.
The Sox showed signs of breaking out in this one, belting out 12 hits. Leadoff man Jacoby Ellsbury broke out with a four-hit night, including a double and a triple. The problem is that the Sox left 10 men on base and went 2-for-16 with runners in scoring position.
"We had 12 hits tonight, and you leave 10 men on base," said manager John Farrell. "The one thing when we've been in stretches like this, we continually do a very good job of creating opportunities. We did that tonight. We haven't done it so much in the first three games, but that's a tip of the hat to the pitching that we've been facing."
There could be a lineup change for Game 5, as Farrell indicated he's at least considering giving top prospect Xander Bogaerts his first postseason start, either at short or third. Bogaerts came off the bench in this one and led off the ninth with a ground-rule double down the line in right.
"Haven't made a decision on tomorrow's lineup," Farrell said. "But given the way the left side of the infield [is going], we're struggling a little bit to get production out of that side. So it's something that's being considered for sure."
Though Doug Fister did it in more of a finesse way than Anibal Sanchez, Max Scherzer and Justin Verlander, he tamed the Boston bats just like his teammates did.
"Fister, his pitching tonight was the best I've ever seen him," said Ortiz. "I don't know what it is about them. They're taking it to another level. Good pitching can mess up good offense. In the playoffs, you definitely have to keep the score close."
That's what Peavy failed to do in this one. The veteran was lifted after allowing the first two batters to reach in the fourth. He went three-plus innings, allowing five hits and seven runs. Peavy walked three and struck out one.
"I feel like I let the boys down," said Peavy. "It's a bad taste in my mouth. I just couldn't make that big pitch to minimize the damage. As we all know with that ballclub, innings can escalate and can get out of hand at any moment. No excuse. It's on me, and I can promise you this: We'll be back tomorrow as a ballclub, as a unit, ready to go."
After breezing through the first, Peavy completely lost his command in the second, and the Tigers pounced. Victor Martinez led off with a single, and Peavy walked Jhonny Peralta and Alex Avila to load the bases with nobody out.
Omar Infante hit a sinking liner to center, and Ellsbury made a tremendous diving catch to save a run. However, it wound up being inconsequential. Austin Jackson drew a bases-loaded walk and the Tigers had a 1-0 lead.
Jose Iglesias followed with a grounder to short that Dustin Pedroia bobbled initially, erasing the chance at a double play. The Sox did get the force at second, but a run scored.
"It's my fault," Pedroia said. "We've got to turn that double play and we didn't. It was hit hard, and it's one of those things. He backspun it. I thought it was going to hop up and it stayed down. It landed in the web of my glove and went up and it was one out instead of two. It's my responsibility to turn double plays. If I catch it, we're getting two."
Torii Hunter, who was vaulted into the leadoff spot, laced a two-run double to left. Miguel Cabrera's soft liner to center dropped in, and the Tigers were up 5-0.
Peavy settled down for a 1-2-3 third, but the Tigers jumped right back on him in the fourth. Infante started it with a ground-rule double to left. Jackson ripped a single off the glove of a diving Pedroia and into right, scoring Infante. That was Peavy's 65th and final pitch of the night. Cabrera came up with a two-out RBI single against Brandon Workman to make it 7-0.
"You open up the game by giving up runs that early you're kind of looking for trouble because you know those guys' pitching is not a joke," said Ortiz.
Fister navigated his way out of some traffic early and had a shutout through five.
Boston finally put something together in the sixth. Mike Napoli and Daniel Nava stroked back-to-back singles. Saltalamacchia banged an RBI single up the middle, cutting Detroit's lead to 7-1.
Victorino's RBI double in the seventh scored Ellsbury to make it a five-run game. In the ninth, Bogaerts opened the frame with a leadoff double and scored on Ellsbury's triple to the right-field corner.
As much as the momentum has already swung in this series, the best-of-three that awaits should be thrilling.
"This is a battle," said Hunter. "The Red Sox, 97 wins, won the AL east. They have Big Papi over there. They've got good guys over there, great pitching. And you look at our ballclub, same thing. Veteran presence, we've been around. We know how to turn pages. It's going to be a grind. Guys can really play on both teams."
Ian Browne is a reporter for MLB.com. Read his blog, Brownie Points, and follow him on Twitter @IanMBrowne. This story was not subject to the approval of Major League Baseball or its clubs.