Who's No. 1? Iglesias assumes Whitaker's mantle
Who's No. 1? Iglesias assumes Whitaker's mantle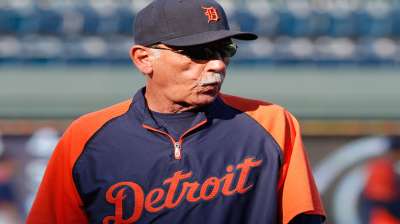 DETROIT -- Yes, that singular number on the back of the Tigers' rookie shortstop looked awfully familiar to Lou Whitaker.
Whitaker knew about Jose Iglesias wearing jersey number 1 long before he came back to Detroit to throw out the ceremonial first pitch prior to Game 4 of the American League Championship Series on Wednesday. He was ready for the question when he met with reporters prior to his pregame duties.
"Well, you know, Tigers want to be No. 1. You need No. 1 on the field. And so he was brave enough to ask for it," Whitaker said. "He got it. I was a rookie when I had it. He's a rookie. So hopefully he can just have a great career."
Whitaker said he was not asked about the number.
"I guess he went in there and saw nobody wearing the number," he said. "It was up for grabs, and that's what he wanted, and that's what he got."
The number is not retired, just as Alan Trammell's old number 3 isn't. Just seven numbers are, and six are for players in the National Baseball Hall of Fame, including Jackie Robinson's number 42. Willie Horton is the only Tiger with his number retired who has not been inducted into Cooperstown.
The Hall of Fame is another debate with regards to Whitaker and Trammell. Whitaker lasted only one year on the ballot because he wasn't selected on at least five percent of the ballots turned in. In hindsight, it ranks among the more glaring snubs, not the lack of induction so much as the lack of an annual debate about his career and his standing among the best of his generation.
"It's a tough question for me to answer," he said. "It's in the media's hand. Wow, it's very tough. I think Tram and I, we loved to play. We did everything the way baseball should be played.
"My whole thing was to one day be a professional athlete. I had the opportunity, and the rest is for everyone else."
Jason Beck is a reporter for MLB.com. Read Beck's Blog and follow him on Twitter @beckjason. This story was not subject to the approval of Major League Baseball or its clubs.