Game 4 shufflin' helps Fister, Tigers knot ALCS
Game 4 shufflin' helps Fister, Tigers knot ALCS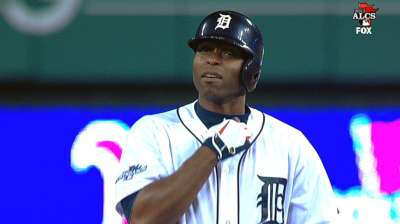 DETROIT -- Had to try something, Tigers manager Jim Leyland said about juggling his lineup Wednesday.
"We might get shut out on two hits," he said before Game 4 of the American League Championship Series, "but I was happy because we did something."
By the end of this 7-3 win over the Red Sox, the Tigers had done plenty.
They put up more runs in three-plus innings against Jake Peavy than they did in the first three games of this series combined.
They somehow found a road map out of this hellacious slump for Austin Jackson, whose four times on base out of the eighth spot Wednesday nearly matched his total for the previous eight games of this postseason batting leadoff.
They rediscovered the run production in the veteran bat of Torii Hunter, who who accounted for as many runs in the third inning (three) as he did for the rest of the postseason.
Last but not least, they not only deadlocked this series again, they flipped the script.
What was looking like a best-of-seven series in which the first run wins is now essentially a best-of-three set in which the Tigers will try to win behind Anibal Sanchez, Max Scherzer and Justin Verlander. Sanchez gets the ball in Game 5 Thursday night at Comerica Park beginning at 8 ET on FOX.
The Tigers will take their chances with that pitching lineup, especially if they can get anywhere near this type of offense to support it.
"I don't know what it is about them," David Ortiz said after Doug Fister's six innings of one-run ball added to the stinginess. "They're taking it to another level. Good pitching can mess up good offense. In the playoffs, you definitely have to keep the score close."
Detroit won only one of the first three games despite 21 innings of two-run ball from its top three starters, in part because the offense couldn't plate a run in Game 3. It was a big enough concern that Leyland took Jackson out of the lineup's top spot for just the third game in his career, batting him eighth and moving seven other hitters up a spot.
"I didn't want to turn it into a circus," Leyland said. "I wanted to tweak it a little bit."
It wasn't a circus. Instead, it was a second-inning parade.
Leyland set up Hunter, Miguel Cabrera and Prince Fielder to get their swings at Peavy in the opening inning, and they went down in order. Everything after that went right for the Tigers.
"He's the boss," said Victor Martinez, whose move to the cleanup spot merely set him up to lead off the second inning. "We still have to execute."
So did Jackson, even from the eighth spot in the lineup. It was far enough down, Leyland estimated, to take some of the pressure off of Jackson at the plate, where he was 3-for-33 with 18 strikeouts for the postseason.
"You know, I was happy that I was still in there," Jackson admitted. "That's a good thing. But I think the goal was to just get me to relax and just go out and play, don't put so much pressure on yourself."
For a change, he didn't have to worry about being the sparkplug for the offense. He watched what Peavy was throwing, and he waited for his turn.
When he came up in the second inning, all he had to worry about were the bases loaded with one out, and Peavy on the ropes. So much for relaxing.
With four pitches outside the strike zone, Peavy took the pressure off.
"We know he's not swinging the bat that well," Peavy said. "That's why he's in the eight-hole. We've got to make him swing the bat, and we just couldn't do that there."
For a veteran pitcher, it was a huge mistake. On his very next pitch, his All-Star second baseman compounded it.
"We have to turn the double play on the ball Iggy hit," Dustin Pedroia said of Jose Iglesias' grounder to the right side, "but we didn't."
The way Pedroia struggled to field it, he needed a throw wide of second and a neighborhood call for the force to get any out. Stephen Drew had no chance to get Iglesias on the throw to first, allowing the second run to score and extending the inning for Hunter to come back up and reset the lineup.
The Tigers struggled to capitalize on those kinds of mistakes at various points this season. Hunter's first-pitch, two-run double down the left-field line ensured they didn't miss this one.
"You try to change the mindset of the players in the lineup," said Hunter, who scored on Cabrera's single to make it 5-0. "It was a lot of fun. I think it settled us down and allowed us to do what we had to do."
Instead of leading off the attack against Peavy, Jackson ended it in the fourth with a ground ball just out of Pedroia's grasp and into right field, scoring Omar Infante following his leadoff double. The Tigers knocked Peavy out with more runs than he allowed to them in any start during his four years with the White Sox.
"The thing is, we had some good at-bats off him," catcher Alex Avila said.
Fister couldn't duplicate the no-hit bids his fellow starters carried into the middle innings, giving up a first-inning single, but he could easily carry a touchdown-sized lead, allowing just one run, coming in the sixth.
The Tigers did something on offense after Leyland did what he felt he had to. They'll go with the same lineup for Game 5, the manager said, hoping for something more.
"This has nothing to do with Jim Leyland," he said. "This is about the players. They executed, they came out, they played well. It was really a good game for us."
Jason Beck is a reporter for MLB.com. Read Beck's Blog and follow him on Twitter @beckjason. This story was not subject to the approval of Major League Baseball or its clubs.