Four homers sting Cards, who can't clinch in LA
Four homers sting Cards, who can't clinch in LA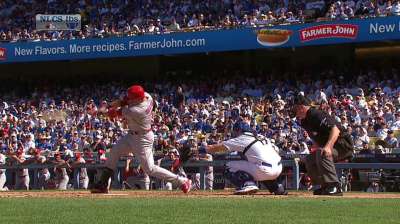 LOS ANGELES -- The champagne remains on ice. The celebration sits on hold. And the National League Championship Series shifts back to St. Louis, where the Cardinals will have two more opportunities to capture the NL pennant.
While the Dodgers' offense had a sudden show of power, the Cards were left to wonder what might have been had they done more with their early opportunities. A pair of inning-ending double plays by Yadier Molina loomed especially large in a 6-4 loss to Los Angeles in Game 5 on Wednesday, a loss that prevented St. Louis from securing a trip to the World Series on the Dodgers' home field.
"I think it's become the series that people expect," said David Freese, part of a bottom half of a lineup that went just 2-for-20. "I think a lot of people thought that it was somehow going to go back to St. Louis. It's always fun. It's always exciting. But it's never easy."
Not all, though, was unproductive during the Cardinals' three-game stay in L.A. By taking the middle game on the road trip, the Cards hold the edge, 3-2, in the best-of-seven series that now moves to a more welcoming venue.
Rookie stud Michael Wacha is poised to take the mound in Game 6 (Friday at 7:30 p.m. CT on TBS). Adam Wainwright will be rested should the series extend to its max. In the same NLCS spot a year ago, the Cardinals had the difficulty of trying to close out the series on the road. This time, they go home, where they have a 4-1 record this postseason.
"We're OK," Carlos Beltran said. "We have a one-game lead. We weren't expecting to come here and have it be easy. That's why they're here. They are a good ballclub. We have to give credit to them. We have to battle, we have to find a way to get it done."
St. Louis certainly had its chances on Wednesday, with its offense as lively as it has been in a pitching-dominated series. The problem was, a Dodgers offense that had been muzzled for much of the first four games woke up, too. The combined 10 runs in Game 5 came after the first four games produced just a total of 15 runs.
Though the Cardinals would piece together a two-run ninth that ended with the potential tying run also on base, it was a first-inning rally not consummated that stung. Before Dodgers starter Zack Greinke closed his seven-inning start by retiring the final 13 batters he faced, the Cards seemingly had the right-hander on the ropes.
With the Dodger Stadium crowd of 53,183 still settling into their seats, the Redbirds opened the game by putting their first three runners on base. But Matt Adams, who entered the afternoon 1-for-15 with eight strikeouts in the NLCS, couldn't make Greinke pay. The slugger chased a ball in the dirt for a third strike, the first out of the inning.
"If my at-bat changes, it could swing either way," Adams said. "It was a bad pitch to swing at. I just didn't get the job done."
The threat was then entirely erased when Molina hit a grounder that third baseman Juan Uribe gloved to start a double play. Molina similarly squashed a third-inning rally -- one that had already evened the game at 2 with a pair of runs -- by grounding into another double play, this time with runners on the corners.
"You've got to have the timely hits," manager Mike Matheny said. "We put some guys on base in that opportunity. You don't get many when you face top‑tier pitchers. We had a couple opportunities to do something and just couldn't make it happen. Those usually come back to haunt you, and today they did."
Greinke, after allowing four consecutive one-out hits in that inning, did not allow the Cardinals to reach base again.
"It is frustrating," Molina said afterward. "I am frustrated. I had the chance to help my team win, and I didn't come through. It is a part of baseball. Today was my bad game."
Said Greinke: "With Molina, there is nothing you could do that you know is going to work. He can adjust to anything, and you just ... I kind of got lucky, I guess. I made a good pitch, but still, even with a good pitch, he can hurt you. It just worked out."
Cards starter Joe Kelly never did get quite as comfortable. Four second-inning hits, including a two-out single by Greinke, staked Los Angeles to an early 2-0 lead. Kelly then couldn't produce a shutdown inning to answer St. Louis' game-tying rally in the third.
With the first of four Dodgers solo homers, Adrian Gonzalez pushed Los Angeles back in front in the third. Carl Crawford went deep off Kelly in the fifth, the right-hander's final inning of work.
"Just a couple of mistake pitches with my fastball," Kelly said to sum up his second NLCS start.
Reliever Edward Mujica served up the third homer, a seventh-inning blast by catcher A.J. Ellis. Gonzalez struck again in the eighth, this time off John Axford.
"It's no secret we've really let our pitching down the entire series," Ellis said. "Our guys have thrown the ball amazing the entire time, and offensively we have not held up our end of the bargain. We did so well against Atlanta in the last series by using the long ball and hitting some home runs, and it was great today to see some guys hit some balls out of the ballpark and give us some insurance runs late in the game."
If there was any momentum for the Cardinals to take from an otherwise forgettable result, it came from the top of the order. The Cards' first three hitters -- Matt Carpenter, Beltran and Matt Holliday -- opened the game 5-for-5 with a walk after having combined for just seven hits in the first four games of the series. Both Beltran and Holliday delivered RBI extra-base hits in the third.
Holliday finished with a three-hit game, and he sparked a ninth-inning rally with a leadoff double. Adams' single to center pulled the Redbirds to within three.
The second half of the order, though, again could not do enough to complete the rally. Kenley Jansen struck out Molina, and after Jon Jay poked a single into right, the Dodgers closer retired Freese. Pete Kozma reached as the potential tying run with an RBI single, after which pinch-hitter Adron Chambers ended the game by taking a called third strike.
It was too little, too late, from a bottom half of a lineup that produced just two hits from the No. 5 spot on down. The Cardinals are still hitting only .178 as a team in this NLCS, though they matched their postseason high with 10 hits on Wednesday.
"Teams that get this far are always confident, they always believe," Freese said. "Obviously, you go through tough stretches individually, but I think when you've got 25 guys in the clubhouse, you can find confidence that can carry over. It's just never easy. It just never is. You get this far and you go on to win the World Series, you've gotten some breaks and you've got to [come] back from some tough things."
Jenifer Langosch is a reporter for MLB.com. Read her blog, By Gosh, It's Langosch, and follow her on Twitter @LangoschMLB. This story was not subject to the approval of Major League Baseball or its clubs.