Matheny, Cards laud young players on pickoff
Matheny, Cards laud young players on pickoff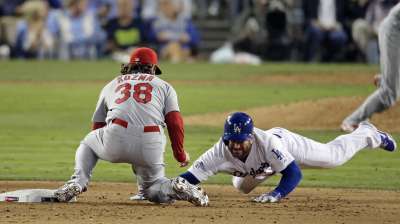 LOS ANGELES -- Rookie Cardinals right-hander Carlos Martinez's pickoff in Game 4 of the National League Championship Series was so deft, so daring, it was still worth talking about a day later at Dodger Stadium.
"It's a big risk," said shortstop Pete Kozma, who was on the back end of the play, "but that's what the postseason is about."
In the seventh inning, the 22-year-old Martinez and the Cards were nursing a 4-2 lead. Dodgers pinch-hitter Nick Punto awakened the sellout crowd with a one-out double. With Punto leading toward third base and Carl Crawford batting, Martinez wheeled and fired a fastball to Kozma covering second for an enormous out.
Martinez then breezed through the eighth inning, Trevor Rosenthal worked around a single in the ninth and the Cardinals wrapped up the victory to move within one win of the World Series.
"That all happened so fast that I'm not involved, [catcher Yadier Molina is] not involved," Cardinals manager Mike Matheny said. "That's Pete Kozma. Really, if Carlos doesn't turn around and take a peek, that is probably an easily stolen base.
"Nobody could hear anybody at that particular time, because the noise was so loud. But Pete saw an opportunity. Really, hat's off to a young player to not just try to get the pitcher to step off, but try to create a play. Now, after that, it goes straight into the hands of Carlos, which more often than not, you're going to see even a veteran pitcher who has had a lot of experience step off and just try to stop him from running.
"But Carlos' athleticism took over. His instincts and aggressiveness and faith and trust in himself turned into an incredible play. I think you really have a handful of guys at most in this league that could pull that play off in any situation, let alone the situation we were in last night."
"I felt relaxed in the game," Martinez said through a translator, "and thank God I was able to focus on that play and focus on the game that allowed me to pick off Punto."
Was it a risky play?
Darn right it was, said right fielder Carlos Beltran.
"Oh my goodness," said Beltran, who actually missed the play. "I was kidding when I came to the dugout, because I said, 'What happened?' I just put my head down, and all of a sudden, the guy was out. ... It's a risky play, man. Every time you make a play like that with pitchers, when they have to turn -- and Martinez, a guy throwing 99 -- I was like, 'Wow, if he made a bad throw, it's going to be terrible.' Thank God he made a perfect throw and Kozma was there to get the guy out.
"I don't really like to see it in tight ballgames, but I guess he felt it was a good time to [try] that play. That kid [Martinez] is a special kid. He doesn't seem scared on the mound. He wants to have the baseball. He wants to be there. I really enjoy watching him, because for being so young and so confident, that's very nice."
Jenifer Langosch is a reporter for MLB.com. Read her blog, By Gosh, It's Langosch, and follow her on Twitter @LangoschMLB. Adam McCalvy is a reporter for MLB.com. Read his blog, Brew Beat, and follow him on Twitter at @AdamMcCalvy. This story was not subject to the approval of Major League Baseball or its clubs.