Schumaker, Mattingly effusive with praise for Molina
Schumaker, Mattingly effusive with praise for Molina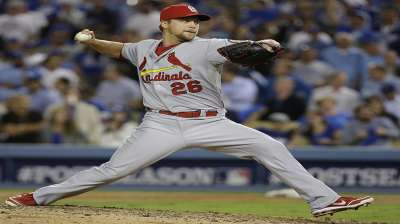 LOS ANGELES -- Though his team is still alive in the National League Championship Series, utility man Skip Schumaker has seen enough of Cardinals catcher Yadier Molina.
"In my opinion, not only is Yadi the MVP of that team, but the league," said Schumaker, a former teammate of Molina's in St. Louis. "What he means to them defensively, commanding the game, shutting down the running game almost completely.
"If you watch him really closely during the game, he's moving in outfielders, telling infielders to take a step right or left. He's one of the smarter baseball people I've been around, and maybe the smartest."
Schumaker -- echoing compliments that several of the Dodgers made about Molina through this series -- also cited Molina's role as an on-field coach for the Cardinals' young pitching staff.
"He makes the team that much better and makes those young pitchers so good, because they know they can trust him and not have to shake him off at any point," he said. "That is a really good thing to have confidence-wise when you're a young pitcher."
Manager Don Mattingly endorsed Molina from the perspective of a skipper whose club has been kept off-balance by St. Louis' pitching plan.
"Again, I look at Yadi," said Mattingly, a former batting champ and coach. "He does a really good job of knowing when to get ahead in the count and when to use his breaking ball if he feels like you're going to be aggressive. So it's always cat-and-mouse, back and forth."
Ken Gurnick is a reporter for MLB.com. Austin Laymance is an associate reporter for MLB.com. This story was not subject to the approval of Major League Baseball or its clubs.