Homers, Greinke help Dodgers extend NLCS
Homers, Greinke help Dodgers extend NLCS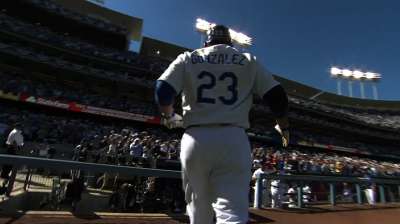 LOS ANGELES -- The Dodgers aren't going to Disneyland just yet, but they are going back to St. Louis after beating the Cardinals on Wednesday, 6-4, in Game 5 of the National League Championship Series, thanks to solo home runs by Adrian Gonzalez (who hit two), Carl Crawford and A.J. Ellis.
"They were up, 3-1, last year and they lost it," Gonzalez said, referring to the Cardinals' 2012 NLCS collapse against the Giants. "We're looking to do the same thing that happened last year."
Facing elimination, the Dodgers sent Zack Greinke to outpitch -- and outhit -- Joe Kelly. Greinke escaped a bases-loaded, no-out situation in the first inning unscathed, limited the damage to two runs in the third inning and regrouped to retire the final 13 batters he faced, finishing with seven innings and 104 pitches. He also hit an RBI single, the first RBI from a Dodgers pitcher in an NLCS game since Orel Hershiser in 1988.
With a perfect eighth, Brian Wilson moved into third on the all-time list with 17 2/3 postseason innings without allowing an earned run, but the game almost got away from Kenley Jansen in the ninth. Rookie right fielder Yasiel Puig lost Matt Holliday's fly ball in the sun and the Cardinals scored twice, but Jansen got Adron Chambers on a called third strike, fanning the side.
The Dodgers will fly to Missouri on Thursday and, with the Cardinals leading the series, 3-2, play Game 6 on Friday at 5:30 p.m. PT on TBS with Cy Young favorite Clayton Kershaw facing Michael Wacha in a rematch of Game 2, which was won by the Cardinals.
"We need to think about it as a one-game Super Bowl," said A.J. Ellis. "We've got the best pitcher in baseball going Friday, but they've already beaten him once. They have great pitching. We've still got to climb a mountain, but we're a little closer than at the beginning of the day. We still have a long way to go."
If there's a Game 7 on Saturday, Hyun-Jin Ryu will pitch against Adam Wainwright.
"I think if you look at it now, we've kind of become America's team, because everyone wants to see a seventh game," said manager Don Mattingly. "Probably even the fans in St. Louis would like to see a seventh game, so I figure that everybody's for us to win on Friday night. So obviously, it's a pretty good feeling with Clayton pitching on Friday."
The clubhouse message board reflected the revitalized tone:
"Pack for the next opponent -- Boston or Detroit -- and bring a jacket."
After going homerless over the first four games of the NLCS, Dodgers hit four in this game to tie a franchise postseason record, set in the 1977 World Series and 1978 NLCS.
Hanley Ramirez and Andre Ethier rested their broken bones in Game 2, and the Dodgers were blanked, 1-0. The two played in pain on Wednesday, a day after a 4-2 Game 4 loss in which Ramirez had to exit after six innings.
Ramirez, with the apparent assistance of better painkillers to alleviate the pain of the cracked rib Kelly gave him in Game 1, went 0-for-3 with a strikeout, but at least he wasn't staggering in pain on every swing. Nick Punto replaced him on defense in the seventh inning.
Ethier went 0-for-4 and gave his microfractured left leg a good workout with St. Louis hitting four balls to center field, including RBI extra-base hits by Carlos Beltran and Holliday in the second inning.
With Ramirez and Ethier neutralized, Gonzalez stepped up and went 3-for-4 with the two homers and scored three runs.
"It seems that [Gonzalez has] kind of stepped up here," Mattingly said. "Maybe the fact that Hanley has not been able to do what he's been doing in the past, Adrian maybe feels that responsibility. But I think maybe it's the time of year. He's getting more attention for it, but he's been doing this all year long for us. It's something that we've seen all year long."
Greinke found himself in a bases-loaded mess quickly. Matt Carpenter led off the game with a line-drive single to left, Beltran walked on four pitches and Holliday's popup to shallow center fell untouched behind shortstop, despite Crawford's diving attempt.
"I was real nervous out there with that situation," said Greinke.
Greinke struck out Adams with a 2-2 curve for the first out, then got Yadier Molina to pull a 2-2 curveball to third baseman Juan Uribe, who stepped on the base and had his one-hop throw saved by Gonzalez at first base for an inning-ending double play.
"That was a game-changer for us," A.J. Ellis said. "If they score three or four runs, it not only gives them the lead, it's an emotional back-breaker for us and a lift for them." In the second inning, the Dodgers came up with the clutch hit they'd been lacking most of this series. Gonzalez led off with a single, Puig singled him to second with one out and Uribe -- who had two RBIs off Kelly in Game 1 -- bounced a single up the middle, Gonzalez lumbering home ahead of the throw from center fielder Jon Jay.
Puig tagged to third on a foul popup down the right-field line by Ellis and Greinke drove him in, grounding a curveball between shortstop and third base after falling behind in the count, 0-2.
The Cardinals responded in the top of the third with a one-out single by Carpenter and a triple by Beltran off the center-field fence that caromed past Ethier, who slipped on the warning track trying to change directions on his broken leg. Holliday one-hopped a 3-1 breaking ball off the center-field fence to score Beltran and tie the score at 2.
Adams followed with a broken-bat infield single hit so slowly that second baseman Mark Ellis, shifted into right field, couldn't race in fast enough for a play at first, but Greinke escaped further damage by getting Molina to hit into another inning-killing double-play grounder.
"It is frustrating. I had a chance to help my team to win, and I didn't come through," said Molina. "It's part of baseball. You're going to have bad games. Today was a bad game."
After Ramirez bounced into a double play in the third -- and expressed his frustration in the dugout, overturning a cooler -- Gonzalez launched a towering homer on a 2-1 fastball for the Dodgers' first homer of the series and a one-run lead. Gonzalez gave his bat a high end-over-end flip to celebrate, and as he returned to the dugout, he gave his teammates a mouse-ears wave, an obvious response to Adam Wainwright calling Gonzalez's behavior in Game 3 "Mickey Mouse."
"Just having fun with the comment that was made earlier," said Gonzalez. "Nothing against them."
Gonzalez said that he will retire the mouse ears because there was too much postgame chatter about it, but Crawford believes they are good luck and encouraged Gonzalez to keep it going.
"Once you start it, you've got to keep going," Crawford said with a laugh. "I'm pretty sure it rubbed them the wrong way, and they're going to use that as some kind of fuel, so you might as well keep doing it, Adrian."
Crawford added to the Dodgers' lead with a 447-foot blast into the right-field pavilion with one out in the fifth inning. After hitting six home runs in the regular season, he has four in the playoffs, one short of Davey Lopes' franchise postseason record. A.J. Ellis added a one-out homer in the seventh off Edward Mujica on an 0-2 pitch, and Gonzalez homered again in the eighth.
Ken Gurnick is a reporter for MLB.com. This story was not subject to the approval of Major League Baseball or its clubs.