Oct. 15 John Farrell postgame interview
Oct. 15 John Farrell postgame interview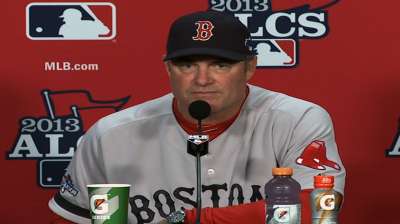 Q. Can you talk about the pitching tonight, the four pitches.
JOHN FARRELL: You know, this series has been marked by very good pitching on both sides. Tonight John Lackey was outstanding, particularly in that first and fifth innings, when he gets Victor to end the first inning, who has been swinging the bat exceptionally well, particularly from the left‑hand side. After the lead‑off double to Peralta, they move him over with a ground ball on the infield out. He gets a big strikeout with Infante and then ends it with a ground ball to Dirks.
John Lackey was outstanding. He held his stuff throughout the entire time he was out there. Bres comes in and picks him up with Avila coming to the plate right there. And the two key strikeouts in the eighth inning with Junichi against Cabrera and then Koji against Fielder, just very good work by every guy that went to the mound today.
Q. You mentioned Tazawa against Cabrera. Can you tell me what you thought of that at‑bat, how he pitched him?
JOHN FARRELL: We liked the matchup with power against Cabrera. Cabrera has had good success against Koji in the past, hit a couple of balls out of the ballpark against him. And particularly after the base hit the other way by Torii to put them in the first and third situation, we felt power was the best way to go here. Whether he climbed the ladder away from him late or just stayed hard with him, it was a pivotal moment. You're getting the best guy in baseball at the plate, trying to preserve a one‑run lead. And that was a swing moment for sure. And then obviously Koji, what he came in and did, as well.
Q. There was talk before the game, rightfully so, about Verlander. Do you think Lackey tried to go out there and take that personally, do you think he looked at it as being overlooked in this matchup today?
JOHN FARRELL: No, I don't. John is a veteran, and he knows he's not pitching directly against Verlander. He's got a very powerful lineup he's contending with. He's had a couple of good games against them this year. And he really stepped up for us.
A lot was made about the additional rest coming into today versus the additional rest against Tampa where he wasn't that sharp. But today John Lackey took it upon himself to pitch a heck of a game.
Q. We've seen in the past Lackey doesn't like to come out of games when he's pitching well. Can you explain what it's like to go and have to remove him?
JOHN FARRELL: Well, you can anticipate him not wanting to come out of the game. And you know what, that's what makes John such the competitor that he is. I'd rather him come off arguing than come off with his head hanging. That means we're probably on the reverse side of the scoreboard.
You never want a pitcher to come out of the game. If something is made of that, we don't want John to change who he is as a person, and certainly who he is as a competitor.
Q. Talk about what you saw from Verlander from your view, and how fortunate do you feel that Mike hit one out?
JOHN FARRELL: Well, as we've seen in the first three games, their starters have been outstanding. That game was unfolding as the first two have. We don't get anything going through the first five, possibly six innings. But a 3‑2 fastball that Nap got to drive it out of the ballpark, in a 1‑0 game obviously that's the key moment from the offensive side. He was very good. He was outstanding.
Q. We've seen all across baseball this year, strikeouts more than ever, certainly in this series. As a former pitcher, what do you make of all the strikeouts in baseball right now, and especially in this series, I guess because the Tiger pitchers are so good?
JOHN FARRELL: They led baseball in strikeouts in the year. We're a team that is going to work deep counts, hit with two strikes a lot. We wrack up some strikeouts ourself.
To give you an answer as to why strikeouts are trending upwards across the game, you're getting power stuff from one guy out of the next coming out of bullpens across baseball. There's probably a little more of a tendency to drive a ball even with two strikes, rather than a pronounced two‑strike approach just to protect. But thankfully Nap didn't try to protect today.
Q. Can you talk about your faith in Napoli? He goes through some streaks like before this at‑bat, but you always stay with him.
JOHN FARRELL: He's put up big numbers for us. And along with that comes some strikeouts. And those have been present during the series, and all season long. But when he gets into that stretch run where he's on the right side of streakiness, he can carry us and he has carried us. Whether it's September or back in April for the first five, six weeks of the season. We can't turn away from a guy that's got that in his résumé or his track record just because he's in a little bit of a downturn.
Q. As you mentioned there's nothing against Verlander in the first three or four innings, but then you get a couple of hits. Are the guys talking in the dugout about what to look for or are they talking to themselves?
JOHN FARRELL: No, they're not talking to themselves. There's constant conversation in our dugout regardless of who is on the mound. We respect what they throw at us and continue to throw at us. We saw the willingness to swing the bat earlier in the count today. He's in a run himself, Verlander is. That's probably as good a run he's had at any time in his career. We're up against very good pitching every day we walk to the plate.
Q. When you signed John Lackey it was because of games like this that he pitched for Anaheim. Was this the best he's pitched for you guys and kind of the embodiment of what you wanted when you originally picked him up?
JOHN FARRELL: A guy with playoff experience, that's pitched on the biggest stage that the game has to offer. Today was one of those, as well. This is a veteran with a lot of success in the past, including postseason success. And given the challenges he's come through in the time he's been in Boston, we're glad he's not only come back from Tommy John, but regained the form he had pre‑injury.
Q. You said Lackey is not pitching directly against Verlander. How impressive is that performance when he's pitching without a margin for error?
JOHN FARRELL: I think if you poll any pitcher, a starting pitcher, they want that moment. They want the importance of every pitch to be on it, particularly this late in the season. They want that responsibility. John is no different. And there was no margin for error. And you know what, he did a heck of a job.