Power propels Cardinals to within win of Fall Classic
Power propels Cardinals to within win of Fall Classic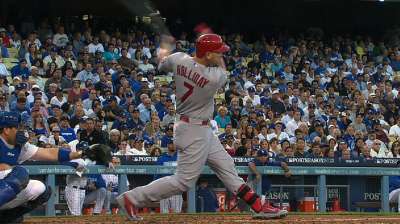 LOS ANGELES -- The St. Louis Cardinals leaned heavily on Matt Holliday in late September, riding his surge to a National League Central title. They needed his home run in Game 4 of the NL Division Series to help stave off elimination against the Pirates.
Silent in the NL Championship Series, Holliday picked an opportune time on Tuesday night to rediscover that power swing.
With his two-run homer capping a three-run third, Holliday helped move the Cardinals to the precipice of making their fourth World Series appearance in a 10-year span. Lance Lynn preserved the lead, and Shane Robinson later padded it, all leading to a 4-2 win over the Dodgers that put the Cards ahead, 3-1, in the best-of-seven NLCS.
"Right now, we've got no problem celebrating this one," manager Mike Matheny said. "Every one of these [wins] in the postseason are so tough to come by. We really don't get too much beyond what we have tomorrow, and [we] realize that we have to go out and play a good game. We've got to have the solid pitching and play a clean defense. [It was] a great move forward in that department tonight, much more characteristic of our club."
The Cardinals enjoyed the same 3-1 NLCS advantage in 2012, before watching the Giants roar back and outscore them 20-1 on their way to a World Series championship run. Redemption can be secured as early as Wednesday, when Joe Kelly, long the team's stopper, can play clincher at Dodger Stadium (3 p.m. CT on TBS).
"Just because you're up 3-1 doesn't mean anything. Nobody's going to roll over for you," said Daniel Descalso, who kick-started St. Louis' key three-run third inning. "That's a good ballclub they've got over there, and they're going to keep fighting. We can't relax. We've got to keep pushing, keep grinding. You don't want to have that feeling again of being up 3-1 and losing three games in a row."
Only twice before have the Cards held a 3-1 NLCS lead. Both times (2012 and 1996), they failed to move on to the World Series.
"We know what's at stake," Matt Carpenter said. "We know how hard it is to get one more win. Anything can happen in a series, as we experienced last year."
Though they sat in a favorable position coming into Game 4, the Redbirds were desperate for their offense to show up. The team had tallied only four runs through the first three games, while posting a miniscule batting average of .134.
Seeking a spark, Matheny swapped Pete Kozma for Descalso at shortstop. The move paid immediate dividends, too, as Descalso opened the third with a single. The top of St. Louis' order then finally found a way to capitalize.
Carpenter, 3-for-31 and without a postseason RBI, doubled to left-center to score Descalso from second. It was the first two-base hit by Carpenter -- who led the Majors with 55 doubles in the regular season -- in October. Two batters later, Holliday crushed Ricky Nolasco's first-pitch fastball over the Dodgers' bullpen.
"[Matt is a] big strong guy with a once-in-a-generation swing," David Freese said. "That's two series in a row that he's helped us out with a homer like that. The funny thing about this time of year, you could be hitless and then you could come through for the biggest hit of the series."
The blast, estimated at 426 feet, was the first home run hit by either team in the series. Holliday entered the game 12-for-26 in his career against Nolasco, who hadn't started a game since Sept. 25. The slugger came into that at-bat having learned from his first one, too.
After popping out in the first inning on an inside pitch, Holliday anticipated that Nolasco would come in on his hands again. Nolasco fed right into the approach.
"Have I hit further ones? Maybe," Holliday later remarked. "But not in that kind of situation."
Nolasco would be knocked out of the game after four innings. Lynn, on the other hand, would pitch into the sixth. He had a shutdown inning immediately after being staked to a 3-0 lead, but did slip in the fourth to let the Dodgers creep back to within one.
The 19-pitch frame opened with a double by Adrian Gonzalez, which Andre Ethier followed with a walk. Hot-shot rookie Yasiel Puig stepped in as the potential tying run and took exception when Lynn's first pitch was high and inside. Eventually, Puig won the battle by lining an RBI single to center.
A.J. Ellis' single drove home a second run before Lynn induced an inning-ending double play from pinch-hitter Skip Schumaker.
"Well, obviously, we had him on the ropes a little bit," Dodgers manager Don Mattingly said. "But every time you get out of one of those, you get a chance to regroup."
Matheny stuck with Lynn until Puig's one-out single in the sixth, making this the deepest of Lynn's four career postseason starts. The righty had never previously been able to finish five innings. Reliever Seth Maness inherited the baserunner and did what the Cardinals leaned on him to do all season. He got the double play.
In total, the Cards' bullpen backed Lynn with 3 2/3 scoreless innings, lowering its postseason ERA to 1.44. Six of those outs were garnered by rookie Carlos Martinez, who, along with Kozma, also picked off the last runner (Nick Punto ) the Dodgers advanced into scoring position. With L.A. trailing by two, Punto had doubled with one out in the seventh.
"I just saw Punto getting off, he had a walking lead, he took quite a few steps, so I ran in behind him and Carlos saw me," said Kozma, who entered as a defensive replacement in the sixth. "Carlos saw me at the right time. It's kind of a feeling play."
"That was a lonely place to be," Punto said afterward.
It was Robinson who provided the bullpen some wiggle room by following Holliday's lead with a home run to left field. Robinson's pinch-hit solo shot was the first hit in 11 career postseason at-bats for the reserve outfielder, who had just one plate appearance in the NLCS before Tuesday. He had just two home runs in 144 regular-season at-bats.
"Baseball-wise, it's up there definitely as one of the top moments," Robinson said. "Helping your team get a win in the NLCS is nice, especially with a home run, my first postseason hit. You couldn't really draw it up any better."
A day after looking sloppy in the field and sleepwalking at the plate, the Cardinals played a clean and crisp nine innings on Tuesday. The Dodgers like how their rotation now lines up with Zack Greinke and Clayton Kershaw ready to go. To stop the Cards, however, they'll have to take three straight from a club that hasn't had a losing streak of that length since August.
"We know what's at stake," Jon Jay said. "We all know how difficult it is to get into the playoffs, and you never know when you're going to get this opportunity. So we've got to keep on playing hard and keep our foot on the pedal."
Jenifer Langosch is a reporter for MLB.com. Read her blog, By Gosh, It's Langosch, and follow her on Twitter @LangoschMLB. This story was not subject to the approval of Major League Baseball or its clubs.