Mattingly didn't feel right using Greinke on short rest
Mattingly didn't feel right using Greinke on short rest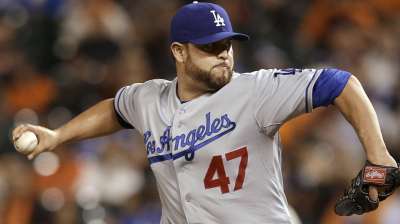 LOS ANGELES -- Dodgers manager Don Mattingly said he flip-flopped several times before deciding during Game 3 that he would start Ricky Nolasco in Tuesday's Game 4 of the National League Championship Series against the Cardinals instead of Game 1 starter Zack Greinke on three days' rest.
"I don't know how to explain it, but it just didn't feel right," Mattingly said about bringing Greinke back on short rest the way he did Clayton Kershaw for Game 4 of the NL Division Series against the Braves. "When Clayton came to us, my feeling was it was a no-brainer. I didn't feel the same this time.
"Before [Monday's] game, I thought about it. It was on my mind all day, and when I got to the park, like, what's the right thing to do? It kept sinking in, and around the third inning, I said to [pitching coach] Rick [Honeycutt] to go with Ricky tomorrow."
Mattingly said Greinke and Kershaw volunteered to pitch Games 4 and 5 on short rest. So even if Nolasco had not started Game 4 at home in a non-elimination situation, he would have been starting Game 6 on the road in a possible elimination situation.
Mattingly said he would have stayed with Nolasco even if the Dodgers had lost Monday night and faced elimination in Game 4. He said pitching Nolasco at home instead of on the road didn't enter the equation.
"It was all about Zack," Mattingly said. "That's where it turned."
Nolasco hasn't started a game since Sept. 25, unless you count a five-inning simulated game last Wednesday.
"Ricky's in a bad spot," conceded Mattingly. "That's what happens to four starters in the playoffs.
Mattingly said he considers Greinke an ace like Kershaw, but hinted that their different personalities influenced his decision.
"Zack looks at things one way and Clayton looks at things differently," said Mattingly. "Zack really thinks about every aspect. He doesn't miss anything. Clayton is a little more, 'I feel good, ready to go.'
"I just didn't feel it was good for [Greinke]. I look at him as a true ace, a top-quality pitcher. I didn't want him to have to go out there and say, 'I can give you five innings or 70 pitches.'"
The way the rotation sets up, Game 3 winner Hyun-Jin Ryu would start a Game 7 if the series goes the distance.
Ken Gurnick is a reporter for MLB.com. Austin Laymance is an associate reporter for MLB.com. This story was not subject to the approval of Major League Baseball or its clubs.