Dodgers' backs against wall after Game 4 loss
Dodgers' backs against wall after Game 4 loss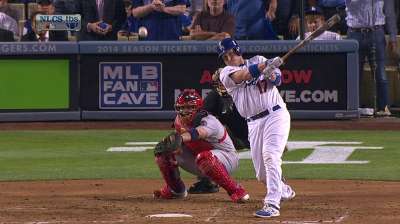 LOS ANGELES -- The euphoria of Monday night's win, along with the pain-killing relief of Hanley Ramirez's novocaine shot, wore off on Tuesday night.
So the reality setting in is that of a battered Dodgers team one defeat from elimination in the National League Championship Series after a 4-2 Game 4 loss to the Cardinals, who have a commanding 3-1 lead in the best-of-seven series.
Ramirez, who played the entire Game 3 on painkillers after suffering a hairline rib fracture, felt the effects in Game 4. He finally surrendered and was lifted in a double-switch after six innings with strikeouts in all three of his at-bats.
"I couldn't go any more," said Ramirez, who vowed he'd try to make the starting lineup again on Wednesday. "Tomorrow, I'm going to come back and I expect to see my name in the lineup. But it's going to be hard."
And it's going to be hard for the Dodgers with him or without him. They must win three straight. Dodgers clubs have trailed 3-1 twice in the NLCS and lost both times in five games.
"We know the situation we're in. We have to just win out," said Ricky Nolasco. "Crazier things have happened."
Manager Don Mattingly sent Nolasco to the mound on 19 days' rest for his postseason debut instead of Zack Greinke on three days' rest. Roughed up at the end of September and skipped over in the last playoff round, Nolasco allowed three runs in the third inning, two of them on a towering Matt Holliday homer, and was lifted for a pinch-hitter in the Dodgers' two-run fourth.
"A sinker in," said Nolasco. "Just that one pitch was the difference in the game."
Catcher A.J. Ellis said Nolasco got Holliday to pop up on a similar pitch in the first inning, but it looked like Holliday was "almost looking for it" on the homer, and "in hindsight, we should have done something a little different on the first pitch."
St. Louis added an insurance run on Shane Robinson's pinch-hit homer off a J.P. Howell changeup in the seventh inning.
"We got a game pitched well enough tonight to win," said Mattingly, whose bullpen allowed that one run in five innings.
Greinke starts for the Dodgers on Wednesday in Game 5, and Mattingly hopes Clayton Kershaw will get a chance to start Game 6 on Friday in St. Louis to force a Game 7 with Hyun-Jin Ryu lined up to pitch.
"The best thought I have is I've got one of the best pitchers in baseball pitching tomorrow," said Mattingly. "If we come out here and play well tomorrow and get a win, I've probably got the best pitcher in baseball pitching the next game."
What he can do with Ramirez, however, is only hope, and hope is a fickle strategy. With Ramirez swinging painfully because of the fractured rib and Andre Ethier dragging his microfractured left leg around the bases on two singles and a walk, the offense struggled against Cardinals starter Lance Lynn.
St. Louis has scored only eight runs in the series, but has won three of four because the Dodgers have scored only seven runs.
"Surprising would be a word. Frustrated. Disappointed. Irritated. All those words kind of fit the bill right there," said Ellis about the Dodgers' offense. "Our guys are throwing the ball great. They've done an amazing job. You feel like at this point, at the very least, it should be 2-2.
"But unfortunately, we are where we are for a reason. And that's because St. Louis has executed just as well as we have, especially on the mound. We haven't been able to come through with hits. They've shown not just us, but all of baseball, that they have a ton of young power arms. Those guys come into the game and they shut the door. We have to solve that riddle, figure out a way to score some runs starting tomorrow. Get back in this series and get on a flight to St. Louis and see what we can do."
The Dodgers scored on a pair of RBI singles in the fourth inning, one from rookie Yasiel Puig in response to a brushback pitch, the other a clutch one-out liner by Ellis, but they also grounded into three double plays and left the bases loaded in the second inning.
Ramirez struck out in each of his three at-bats and finally was removed in a double-switch at the start of the seventh inning, replaced on defense by former Cardinal Nick Punto. Punto doubled to center with one out in the bottom of the frame, but he was then picked off second base by reliever Carlos Martinez.
Punto said he was too far off second base because he was planning to steal third.
"If he gives me a no-look, I'm going," he said. "[Shortstop Pete] Kozma was so far in the six-hole and [second baseman Matt] Carpenter was nowhere around. I had the intention to go. Kozma made a great play [to sneak behind and take the throw].
"It's all on me. I got in no-man's land. It's a lonely place to be and it's a lonely jog off the field. I got too aggressive and put us in a bad spot and we lost the momentum."
Ramirez set a discouraging tone for the offense in an obviously painful at-bat to end the first inning, wincing and staggering with every swing. That led to between-innings meetings with trainers and Mattingly, but Ramirez remained in the game.
Nolasco cruised through the first two innings, but Daniel Descalso singled to lead off the third, was bunted to second by Lynn and doubled home by Carpenter. One out later, Holliday pulverized an inside fastball deep into the Dodgers' bullpen for a three-run lead. The shot was estimated at 426 feet.
"That's about as good as I can hit one," said Holliday, who had been 0-for-13 in the series, but was 12-for-26 with two homers off Nolasco in regular-season play.
"Is that truck OK?" asked teammate David Freese, referring to the promotional pickup truck on display above and behind the bullpen.
Ramirez came back swinging at the first three pitches of his third-inning at-bat before striking out swinging on the fifth pitch, a slider in the dirt.
The game turned a little tense in the fourth inning after a double by Adrian Gonzalez and a walk to Ethier. The next pitch by Lynn was up a little and inside to Puig, who had been criticized by Cardinals outfielder Carlos Beltran in comments the night before about showing up the opposition after his exuberant triple in Game 3.
Puig spun and took two steps toward the mound before thinking better of it, with home-plate umpire Bruce Dreckman and Cardinals catcher Yadier Molina heading off any clash. Puig stopped and walked over to the on-deck circle for reassurance from Juan Uribe, returned to the batter's box, worked a 3-2 count and grounded a third consecutive curveball into center to score Gonzalez.
Uribe flied out to right, advancing the gimpy Ethier to third, and Ethier hobbled home on Ellis' single to center. Mattingly then hit for Nolasco with Skip Schumaker, who grounded into an inning-ending double play.
Ramirez's third at-bat came with one out and one on in the fifth, and he felt no pain on this one, taking three consecutive strikes for his third strikeout.
Chris Withrow took over for Nolasco and overcame three walks to hold the Cardinals scoreless for two innings, but Robinson, batting for reliever Seth Maness, just cleared the left-field fence off Howell with one out in the seventh.
Ken Gurnick is a reporter for MLB.com. This story was not subject to the approval of Major League Baseball or its clubs.