Heart and soul: Lackey, Napoli give Red Sox ALCS lead
Heart and soul: Lackey, Napoli give Red Sox ALCS lead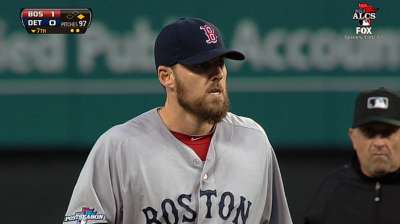 DETROIT -- Finger nails are getting shorter. Hearts are pounding.
But at least so far, the Red Sox are managing the stress of this exhilarating American League Championship Series by somehow finding a way to be in front through the first three games.
Game 3 on Tuesday was, just like its two predecessors, a heart-stopper.
This time, it came down to a fierce effort by starter John Lackey and a clutch solo homer by Mike Napoli in the top of the seventh to give the Sox a 1-0 win over the Tigers, and a 2-1 lead in the best-of-seven series.
If David Ortiz seemed like a cool customer when he hit his game-tying grand slam that led his team to a monumental comeback in Game 2, he admits he was a nervous wreck while watching his team hold on for dear life in this one.
"I'm telling you -- this game will wear you out," Ortiz said. "You have to be on top of your toes at every single second."
When three Red Sox relievers -- Craig Breslow, Junichi Tazawa and Koji Uehara -- saved the day with seven huge outs, Ortiz, as the DH, was just trying to maintain his sanity from the dugout.
"It's worse because I'm holding on tight out there [on the bench]," Ortiz said. "Those guys are making plays. Man, I'm worn out."
Though this win was very much a group effort, Lackey stood out. Perceived as the underdog in a matchup with Justin Verlander, the Boston righty fired 6 2/3 strong innings (four hits, no walks, eight strikeouts) to earn the win.
The man who won Game 7 of the 2002 World Series as a rookie doesn't get overwhelmed by big games.
And his teammates loved watching him come up big in this one.
"Before the series even started, it was 'Verlander, Verlander, Verlander' in Game 3," said left fielder Jonny Gomes. "You absolutely tip your hat to Verlander. He pitched a heck of a game, but I think we can talk about John Lackey a little bit, too."
Not to mention the bullpen, which was never bigger than in the eighth inning.
Perhaps the most crucial at-bat of the game was when Tazawa struck out Miguel Cabrera with runners at first and third and one out.
"He's such a good hitter. I was aware that giving up a sacrifice fly is not the worst thing to happen, but for the team, it was probably not the best thing to happen," Tazawa said. "When I got ahead, I was thinking, 'I'm getting a strikeout.'"
And Uehara -- en route to a four-out save -- snuffed out the rest of that eighth-inning threat by striking out Prince Fielder.
"Unbelievable," Ortiz said. "That dude is filthy. He's unbelievable. It's nasty. I don't know how he does it. Thank God we've got him."
"Just very good work by every guy that went to the mound today," said manager John Farrell.
As it turns out, all Lackey needed was a run. And fittingly, it came from one of his best friends on the team.
At last, Napoli ended the scoreless duel when he unloaded for a homer to left-center with one out in the seventh. Lackey and Napoli were teammates with the Angels from 2006-10 before reuniting in Boston this season.
"The guys came through and my boy took care of me once again," said Lackey. "He's hit some dingers for me, and it was a big one today."
The long ball came on Verlander's 100th pitch of the day -- a 96-mph heater -- and it was Napoli's first homer of this postseason.
"He's tough," Napoli said. "He was on his game tonight and he was keeping us all off-balance. I got a 3-2 [fastball] and put a good swing on the pitch."
To say Lackey outpitched Verlander would probably be a stretch. Instead, he essentially pitched him to a draw, with Napoli's homer swinging the game in his favor.
Before that swing, Napoli was 2-for-19 this October with 10 strikeouts.
"We don't think like that," said Dustin Pedroia. "We always have confidence in our guys. This is the playoffs. Everyone is throwing their best stuff. It's good pitching. Nap, when he put that swing on it -- it was pretty awesome."
Aside from that one misfire, Verlander was pretty much his vintage self, allowing four hits and a run while walking one and striking out 10 over eight innings. Verlander lived up to his bulldog reputation, throwing 120 pitches.
The solo homer by Verlander marks the only run he has given up in his three starts in this postseason.
"I feel like I was right where I need to be," Verlander said. "Hopefully I just maintain that. Hopefully I have a few more starts in the postseason and I just stay right where I'm at."
This game started just like the previous two -- with a Tigers starting pitcher manhandling the Boston bats. This time it was Verlander. He had a no-hitter through 4 2/3 innings before Gomes broke it up with an infield hit that shortstop Jhonny Peralta couldn't make a clean play on.
It was the third time in as many games in this series that the Red Sox took until the fifth inning or later to get their first hit.
"Where's there smoke there's fire," Gomes said. "Where there's no smoke, there's no fire. I didn't think this team would have to scratch out the first hit in the fifth, sixth and seventh innings. But this is how this thing has been written up."
Then there was Lackey, who relished the challenge of the day.
"Unbelievable," said Ortiz. "We're having dinner last night and he sat down and didn't say a word. He's been like that since last night. It's unbelievable. His pitches were where he wanted. We all know that we're facing a good team. That's what we need."
Perhaps the Red Sox will start scoring at some point. In the meantime, they will be forced to rely on their ability to grind through.
"A win kind of hides everything, right? It's pretty easy to leave these double doors with a win no matter what happens at the plate," said Gomes.
Through three games -- two of which have been 1-0 -- the Red Sox are outscoring the Tigers 7-6.
It's been that close -- and that stressful.
"If you're on this team or that team, you're on top of your toes," Ortiz said.
Ian Browne is a reporter for MLB.com. Read his blog, Brownie Points, and follow him on Twitter @IanMBrowne. This story was not subject to the approval of Major League Baseball or its clubs.