Bunting against Miggy not a priority for Sox
Bunting against Miggy not a priority for Sox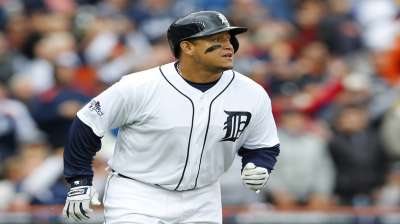 DETROIT -- When the Red Sox were struggling to get so much as a hit in the early innings of the first two games of the American League Championship Series, some wondered why manager John Farrell didn't call for a bunt to challenge Tigers third baseman Miguel Cabrera, who has been hobbled with lower body soreness in recent weeks.
"That's why we see against the guys that are bunting threats, he has been damn near even with the mound," Farrell said. "He's 45 feet from home plate in some cases. In that way, we're probably more willing to hit a ball by him then bunt into what is his own self-imposed shift."
It might seem easy to the casual fan to drop down a bunt against a pitcher like Anibal Sanchez or Max Scherzer. At field level, things are a little different.
"Plus we're facing guys who are up mid- to upper-90s," said Farrell. "To think, 'Let's just go ahead and bunt it,' it's not that easy."
As always with Cabrera, the bigger issue is trying to stop him at the plate. Much to the chagrin of the Red Sox, he appears to be regaining his groove.
"We know the last six weeks or four weeks the power numbers are down, but we haven't viewed it as we have a less than capable hitter here," Farrell said. "We're not trying to fall into any lull of complacency."
Ian Browne is a reporter for MLB.com. Read his blog, Brownie Points, and follow him on Twitter @IanMBrowne. This story was not subject to the approval of Major League Baseball or its clubs.