Sarah's take: Unity of Dodgers on display in NLCS
Sarah's take: Unity of Dodgers on display in NLCS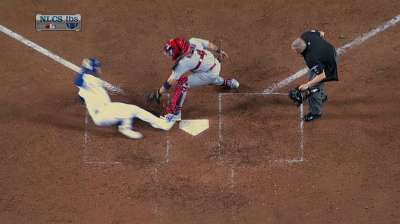 Inspired by the injured Hanley Ramirez -- who chose to play with a hairline-fractured rib -- the Los Angeles Dodgers rebounded from two difficult losses in St. Louis on Monday night in Game 3 of the National League Championship Series.
The Cardinals made unusual mistakes for a playoff team, and the Dodgers took advantage of them. Hyun-Jin Ryu has battled a stiff lower back and a sore elbow that caused him to have a poor September, but the left-hander was brilliant for seven innings. Brian Wilson and Kenley Jansen continued the domination of the best offense in the NL during the regular season.
Facing Adam Wainwright, whose 19 wins were tied for the NL lead, the Dodgers knew they needed better situational hitting than they displayed while in St. Louis. They also had to have better at-bats where they could recognize strikes and balls. They needed controlled aggressiveness to choose which pitches that they could hit and which ones they couldn't.
No team can win the series by scoring two runs in two games and wasting countless scoring opportunities. Someone had to lead the way for the Dodgers offense and set an example for his teammates to make them believe the Cardinals pitching staff was hittable.
Undoubtedly, the Dodgers needed to take an early lead to boost their confidence.
To begin the fourth inning, Mark Ellis, who has struggled throughout the playoffs, hit a pop fly to right-center. Either Jon Jay or Carlos Beltran could have caught the simple fly ball, but instead they looked at each other and let the ball drop for a double. After an out, Adrian Gonzalez, who has been quiet during the series, doubled down the right-field line, scoring Ellis. With two outs, Yasiel Puig, who looked completely lost at the plate in the first two games of the series, tripled home Gonzalez.
No one thought Ramirez would play when the Dodgers earlier that day announced he had a hairline fracture in his eighth rib. As late as a couple of hours before game time, it looked like Andre Ethier -- bothered by an injured lower leg -- wouldn't be able to play, either. Without these important players, the Dodgers offense would have been operating at a significant disadvantage.
If it was the regular season, both Ramirez and Ethier would be on the disabled list, but in the postseason, it's different. After Monday's victory, the Dodgers need only seven more wins to reach their lofty goal, winning their first World Series championship since 1988.
Although Ramirez recognized that baseball is a team sport, he doesn't want to be a spectator in the first postseason of his career. Ethier might have played in three prior postseasons, but he also wants to contribute to his team's effort. On Monday, Ramirez had an important infield hit in the eighth to drive in an insurance run. Both Ramirez and Ethier's determination to play encouraged their teammates to give everything they had, and this is what postseason baseball means.
The Dodgers have received excellent pitching during the NLCS, and Monday night it wasn't an exception. No one knew how Ryu would do. During the NL Division Series, Ryu had an rough start -- even though the Dodgers won the game decidedly. Thanks to brilliant efforts from Zack Greinke and Clayton Kershaw, the Dodgers bullpen was well rested -- even with Game 1's 13-inning marathon -- so if Ryu needed help early, the relievers were ready.
Ryu continued the theme of the series with another brilliant pitching performance. For seven innings, he teased the Cardinals with pitches that looked hittable. At no time during the year did Ryu have better control than Monday, when he worked both sides of the plate while changing speeds expertly. Although the Major Leagues consider Ryu a rookie, he had experience with high-pressure games when he pitched South Korea to the Olympic gold medal in 2008 and a silver medal in the World Baseball Classic in 2009.
Brian Wilson continued his dominance during every postseason that he has participated in during his career. He hasn't allowed a run in 16 2/3 innings. In Game 3, he struck out two in the eighth. Having a reliever with this kind of experience in the postseason is a boon to the Dodgers.
Despite being in his first postseason, Kenley Jansen handled the ninth inning perfectly.
Although the Dodgers still have an uphill battle to win the series, winning Game 3 was vital. No one will be talking about how long it's been since the Dodgers have scored anymore. They know Ramirez will play if he's able.
Sarah D. Morris can be reached at sarahmorris27@gmail.com. This story was not subject to the approval of Major League Baseball or its clubs.