Dodgers unlikely to call on co-aces on short rest
Dodgers unlikely to call on co-aces on short rest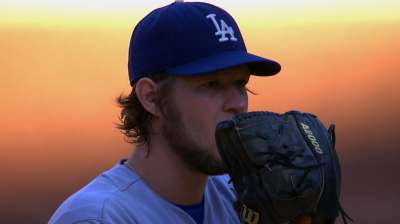 LOS ANGELES -- After the Dodgers' 3-0 win in Game 3 of the National League Championship Series on Monday night, manager Don Mattingly said Ricky Nolasco is the Game 4 starting pitcher "as of right now," and this time he apparently means it.
Mattingly similarly hedged a week ago when he said Nolasco would start Game 4 of the NL Division Series, only to replace him with Clayton Kershaw, who was the choice all along. This time, the Dodgers plan to start Nolasco -- at least that was the plan as of late Monday.
Management considered bringing back Game 1 starting pitcher Zack Greinke on three days' rest, and probably would have if the club had lost Game 3 and faced elimination. But even if Greinke and Kershaw pitched Games 4 and 5 on three days' rest, Nolasco would be looking at starting Game 6.
The misinformation campaign is a club tactic designed to double the preparation work for the opposition. In two starts against the Cardinals while with Miami, Nolasco was 2-0 with a 0.75 ERA. But in his last three starts of the season, Nolasco allowed 17 runs in 12 innings. He hasn't started since Sept. 25, but he did throw a five-inning simulated game last Wednesday.
Greinke threw a 12-pitch bullpen session Sunday to put him in play for Game 4 on Tuesday at 5 p.m. PT on TBS. Kershaw threw a 25-pitch bullpen session Monday, short enough that he would be available to start Game 5 on Wednesday at 1 p.m. PT on TBS if the Dodgers chose.
Kershaw was a late substitute on three days' rest and allowed two unearned runs in six innings as the Dodgers beat the Braves to advance. It was Kershaw's first professional start on three days' rest.
In their Games 1 and 2 starts, a rested Greinke threw 104 pitches, Kershaw only 72, on regular rest.
Mattingly, having previously deflected questions about bringing back either of his aces on short rest, softened his position before Monday's game and said the result of Game 3 could influence his decision.
"I'll probably be able to tell you a lot more after the game," Mattingly said. "So I would say, yes, today's results may have something to do. But like I said, Ricky is ready to go right now."
Ken Gurnick is a reporter for MLB.com. Anthony DiComo is a reporter for MLB.com. Follow him on Twitter @AnthonyDicomo. This story was not subject to the approval of Major League Baseball or its clubs.