Farrell considering starting Gomes in Game 3
Farrell considering starting Gomes in Game 3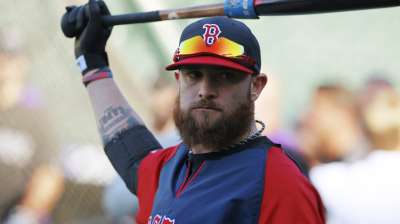 DETROIT -- Citing "intangibles," Red Sox manager John Farrell is considering looking past the numbers to start Jonny Gomes in left field for Tuesday's Game 3 of the American League Championship Series (4 p.m. ET on FOX).
Gomes has not enjoyed any success to date against Game 3 starter Justin Verlander, going 0-for-9 with three walks, an RBI and three strikeouts in 13 plate appearances against the Tigers right-hander.
Yet Farrell said that he had not ironed out all aspects of his Game 3 lineup, acknowledging that Mike Napoli would start at first base and strongly hinting that Gomes might get the nod in left field.
"The one thing that we can't fully measure is the intangibles that Jonny Gomes brings, and so the full lineup tomorrow is still yet to be decided," Farrell said.
Daniel Nava was out of Boston's lineup against Max Scherzer in Game 2 after making the start in left field for Game 1, logging the only Red Sox hit in the contest.
Though it is a small sample size, Nava does own one big hit in three career at-bats against Verlander: he belted a three-run double in a 6-3 Red Sox victory over Verlander and the Tigers on May 29, 2012 at Fenway Park.
Farrell said that he senses a "substantial difference" for the Red Sox when they have Gomes in the lineup instead of having him on the bench.
"One, he's got an opportunity to make something happen inside of a game," Farrell said. "And I think the one thing that might fly under the radar with Jonny is he's a smart player. Much like we talked about with the will to succeed on [Dustin Pedroia's] part on second base, it's very similar to Jonny.
"So he can bring an overall personality to a team when he's in the lineup versus when he's in the dugout. These are the things at this point in time in the year I think you have to consider strongly with the attitude and the makeup that we present on the field."
Gomes said that he would be excited to be in the lineup for Game 3, and while Verlander presents a difficult challenge, Gomes noted Verlander's 13-12 record in the regular season as evidence that he isn't invincible.
"He's tough. At the same time, he's a game over .500," Gomes said. "He's been beat. We've just got to grind it out like we've been doing."
Ian Browne is a reporter for MLB.com. Read his blog, Brownie Points, and follow him on Twitter @IanMBrowne. Bryan Hoch is a reporter for MLB.com. Follow him on Twitter @bryanhoch and read his MLBlog, Bombers Beat. This story was not subject to the approval of Major League Baseball or its clubs.